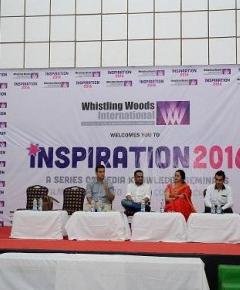 Inspiration 2016 takes Bhubaneshwar by storm as xx students attend the national seminar focused on media and entertainment
Inspiration is a nation-wide media knowledge seminar organized by the students of WWI
The auditorium was not just filled with students, but enthusiasm and excitement, as Whistling Woods International held the Inspiration 2016 seminar at The Institute of Technical Education and Research (ITER), Bhubaneshwar. Organized by the media and communication students of WWI, Inspiration is India's largest student-led nation-wide media knowledge seminar. In its sixth edition, Inspiration will travel across 7 cities starting from Ahmedabad and moving on to Bhubaneswar, Mumbai, Bangalore, Delhi, and Kolkata and Guwahati to inspire students to do what they love.
On this occasion, Rahul Puri, Head-Academics at WWI said, "Bhubaneswar is full of talent and seminars like these allow students to get the much needed exposure as they get to interact with people from different walks of life people from different walks of life. Every profession requires appropriate training to enhance skills and learn the technicalities and understand the basics. Therefore, whoever is planning a career in media and entertainment; should firstly pursue formal training and education."
The event at Bhubaneshwar witnessed industry professionals like Rahul Puri (MD, Mukta Arts Pvt Ltd | Head of Academics, WWI), Dayanidhi Dadhich (Event and Media Entrepreneur),Somnath Sen (Director of Outreach & Affiliations, WWI), Avisekh Rath (Actor), Pinki Jha(Renowned TV Host, RJ Radio Chocolate 104 FM) and Honey Patnaik (Renowned journalist) conducting an insightful session. The panellists discussed opportunities and career scopes in the media and entertainment industry with the young audience. The event also witnessed Krishna Beura (Indian playback singer) as a chief guest for the evening.
On the occasion of being invited to be a part of the panel, Pinki Jha, Renowned TV Host, RJ Radio Chocolate 104 FM, said, "It's always a pleasure to share my experience and knowledge that I have gained from the industry with the future generation of our country. I must indeed congratulate the film and media industry for having a brilliant institute that educates the young minds through such initiatives."
Every year along with the seminar, Inspiration also gives a special award to recognize budding talent within the media and entertainment industry. This year, Dayanidhi Dadhich, a renowned advertisement event and media entrepreneur and Prakriti Mishra, an acclaimed Odia actress have been felicitated with the Young Achiever's Award by the institute for their achievements.
Prakriti Mishra, (Advertising event and, media entrepreneur) appreciated the thought behind Inspiration and said, "It feels great to be acknowledged as a young achiever. It's great to see the enthusiasm of the students present at the seminar and it has been an incredible few hours interacting with them. I must praise Whistling Woods International for giving our country the much needed global education in film, media and communication and enlighten young minds through such initiatives."