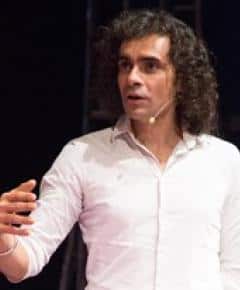 "Embrace failure sincerely as something better is waiting for you", shared Imtiaz Ali at Whistling Woods International
~ The riveting session witnessed Imtiaz Ali impart invaluable knowledge and highlight various aspects of filmmaking with the students ~
"Embrace failure sincerely as something better is waiting for you", said the renowned director, writer, and filmmaker Imtiaz Ali at the 5th Veda session – the cultural hub of Whistling Woods International (WWI). Imtiaz narrated his personal life experiences and highlighted the key learnings from his movies.
Discussing about his first movie Socha Na Tha, he mentioned, "Working on this movie was more like attending a film school – as I did not pursue any formal education in filmmaking. I juggled between numerous roles to understand various facets of filmmaking." He encouraged students to pursue their dreams by suggesting, "Just go for it and see what happens."
Imtiaz also narrated his experience of working with industry stalwarts. He elaborated that the success of a good film is directly proportional to the rapport that one share with others. Citing instances from his latest film Jab Harry Met Sejal, he explained to the students the nuances of casting and how one should cherry-pick actors to fit a particular role in order to do justice to the script.
The 5th Veda session taught students that interest in poetry holds great significance for a director. Imtiaz added, "Poetry gives me relief and sustenance while writing lyrics gives me enjoyment." He emphasized that every director should develop a taste for poetry. This knowledge betters the execution of dialogue, composition and performance, and one is able to evolve into a successful director.
The interactive session witnessed Imtiaz Ali directing a fun and impromptu act by four students from the Actors' Studio, which was the highlight of the evening. He appreciated and praised the performance they put up for him and even guided them on how to better their talent. While narrating his experience at WWI, Imtiaz shared, "Coming to WWI is always special. The energy shown by the students at WWI is surprising. They are positive, spirited and free-flowing and I am very impressed with the spontaneous performance shown by students."
Subhash Ghai, Founder & Chairman, WWI said, "I am very thankful to Imtiaz for gracing today's session and imparting priceless knowledge to our students. It takes numerous years to accrue wisdom and Imtiaz summarized and shared pivotal knowledge from his vast experience gathered over a period of 10 years in little over an hour."
The session ended with Imtiaz Ali being bestowed with a token of appreciation by Meghna Ghai Puri, President, WWI.