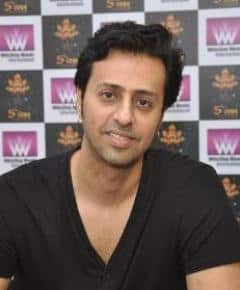 Channelise your pain into your passion and never ever give up!" said musical genius Salim Merchant to students of Whistling Woods International
Renowned Bollywood music composer Salim Merchant surprised the crowd as he shared never-heard-before stories, made honest confessions and jammed with the students
Everyone was in for a surprise as the vibrant Salim Merchant took the audience on a musical joyride during his interactive session with the students at the Whistling Woods International's 5th VEDA cultural hub. The globally renowned Indian music director shared never-heard-before stories, made honest confessions, and jammed with the students.
The session started with an interesting AV that took the audience through the journey of music over hundreds of years. Post that, there was a remarkable 'blues' performance by the students, which kick-started the evening with zeal and enthusiasm. Impressed by the performance, Salim Merchant rushed on the stage even before he was called! And then what began was two hours of pure unadulterated fun, knowledge and captivating music, as the legendary filmmaker Subhash Ghai himself moderated the session.
While interacting with the students he expressed, "Whistling Woods students are fortunate to have an institute of international standards that gives them an opportunity to learn what they are passionate about."
A master in both Indian Classical and Western music, Salim shared his journey of struggles, trials, tribulations, and success. He went on to make a confession that he went through troubled times and channelized that energy into making music, which turned out to be very soulful. "To be a successful artist, it is important to convert your pains into your passion," said an honest Salim.
While talking about the trials a composer goes through, he shared an anecdote on how he made almost 4-5 different compositions before getting a final nod on the popular award-winning melody, 'Chak De India.' "No matter what, please don't give up. Just don't give up!" he shared as a learning from his experiences.
The audience was completely captivated as the youth icon complimented his experiences with songs and melody and inspired the students. He performed many of his hit songs like O Re Piya (Aaja Nachle), Haule Haule (Rab Ne Bana Di Jodi), Ali Maula (Kurbaan) and Aashayein (Iqbal). He stated, "I never work! I am on a life-long vacation because I do what I love," echoing the motto of Whistling Woods.
The finale session of the 3rd Season of 5th VEDA came to a close with a bang. Salim Merchant along with the students offered an impromptu jamming session as they sang English and Hindi songs with live music.