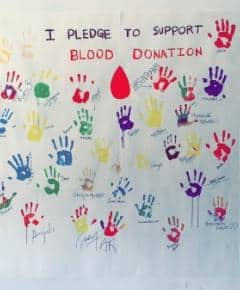 Conducted in association with Kokilaben Dhirubhai Ambani Hospital, students took up this social initiative to promote the noble cause of donating blood
'Donate Blood, Save Lives,' said a poster created by the students of Whistling Woods International (WWI) who initiated the country's largest student-led Blood Donation Drive at the institute today. A simple yet powerful message was conveyed by these students who got an overwhelming support from over 350 donors for their campaign. It was an open for all camp conducted in association with Kokilaben Dhirubhai Ambani Hospital.
The donation drive was an excellent showcase of students putting their skills to use for the greater good of the society. It also helped the people to understand that their little contribution can prove to be of great help to others.
What set this drive apart from other such campaigns were the innovative activities planned by the students. They showcased their talent and entertained the donors through street plays, short story and poem recitals, dance performances, and painting competitions. They had even decorated the institute's lobby with a photo gallery in sync with the theme, 'Extending a Helping Hand'. With reference to the theme, the students also encouraged every supporter and donor to leave colourful imprints of their hands on the 'Pledge Wall' and encouraged everyone to support the noble cause of blood donation.
Speaking on the occasion Meghna Ghai Puri, President of Whistling Woods International (WWI), said, "It is a proud feeling to see our students have not just learnt their curriculum, but much more. It is admirable to see them synergize and put together an initiative for a noble cause. It takes dedication and perseverance to administer a Blood Donation Drive of this stature; their effort towards this is commendable. We will continue to support them in this, and other similar endeavours."
The spirit of humanity and helping save a life had created an aura of positivity at the campus. The camp was a day long activity which started at 11 am and went on until 4 pm.