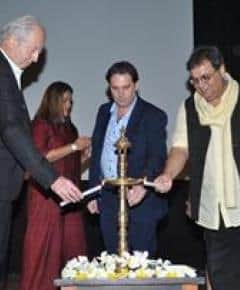 India's first full time Degree program in Visual & Communication Design in association with TISS
Whistling Woods International (WWI), India's leading institute for Film, Communication and Media Arts, today, launched its latest venture Whistling Woods International School of Design in association with ECV, a leading Design school in France. India's first full time Degree program in Visual & Communication Design in association with The Tata Institute of Social Science (TISS).
Unveiled at a grand opening conducted at WWI, the launch was initiated by the traditional lighting of the lamp, graced by key representatives from Whistling Woods International and ECV including Subhash Ghai, Founder & Chairman, WWI; Meghna Puri, President, WWI; Rahul Puri, Head of Academics, WWI; Patrick Hermand, Founder, ECV, and Xavier Masse, Dean, ECV, Paris and Director, International Curriculum Development. The event also witnessed participation of the advisory board members, who are also notable professionals from the industry such as Subhash Awchat, Omung Kumar, Sethunath Padmanabhan, Neeraj Roy, Rouble Nagi, and Farid Bawa.
A one-of-its-kind institute, School of Design offers Bachelor's in Visual Communication and Design, which is a comprehensive three year programme, divided into six semesters. The school aims to inculcate an extraordinary concept of education that goes by the tagline, 'Do What You Love'. The idea behind the school is to focus on making the students industry ready through a unique style of training, which allows them to pursue further education at ECV, France. This platform will fulfill the need of a formal and constructive place where people can get together, develop a network and have a state-of-the-art infrastructure to help them achieve their dreams.
Chairman and Founder, WWI, Subhash Ghai, said, "This is a proud moment for all of us, as a dream that had been taking shape over the last few years, has turned into reality. We feel honored to have collaboratedwith ECV, a Design institution that has earned a name for itself on the global map. The rationale behind this collaboration is to bring a unique global perspective to the curriculum, which would go a long way in shaping aspiring Design & Communication students to become world class professionals."
The first year of the programme will provide a perfect foundation for the students, who will learn the basics of Art, Aesthetics, Drawing, Multimedia, Colour Theory, and Design Principles, thereby developing a thorough understanding of the arena as a whole. In their next two years, students will be introduced to detailed areas of skill development such as Corporate Design, Typography, Art Direction, Web Design, Design Processes, and Publishing Design. Live projects and multiple internships will bring students up-close and personal with the industry they aspire to be in, lending a 360 degree approach to the entire programme.
Commenting on the partnership, Founder, ECV, Patrick Hermand, said, "ECV is over 30 years old with a presence in 5 cities across France, along-with an active international network across 60 organisations. We believe that 'design' is the core to everything you do, and we are confident that Whistling Woods International School of Design will help aspirants in this dynamic field, to become thorough professionals. Whistling Woods International has a very high reputation in the industry with regards to the technology & quality of education they provide, and we are extremely excited to partner with them for this venture."