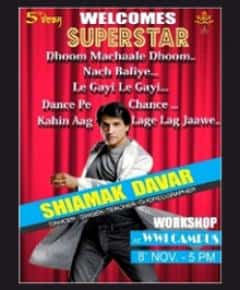 ~Renowned choreographer, Shiamak Davar brought the 4th Season of the 5th VEDA cultural hub to a close with an action-packed grand finale where 400 students danced to the tunes of the WWI anthem~
The 5th Veda auditorium of Whistling Woods International (WWI) resonated with enthusiasm and excitement at the presence of world-class choreographer, Shiamak Davar. He brought the 4th edition of the 5th Veda cultural hub to a close with an action-packed session on various western dance forms that have found home in India. Shiamak brought in a whole lot of cheer, energy and motivation amongst the 400 students by making them dance to the tunes of WWI anthem, which was the highlight of the evening.
The highlight of the event also included a documentary created on a mesmerising act, Selcouth, choreographed by Shiamak Davar and performed by his students. The screening of the AVs were followed by an engaging Q&A session with Shiamak Davar and his student Aneesha, moderated by Subhash Ghai, Founder and Chairman, WWI.
During the session, Shiamak touched upon various aspects of his life – downfalls, barriers and struggles, precious moments and people who supported him, that helped him become what he is today. He also demonstrated various dance moves with his and WWI students to give an in-depth knowledge about the various dance forms. He also elaborated on how dance is not only an art form but a spiritual experience. It not only needs practice but also patience to learn and earn the fame you deserve.
He categorically mentioned that "Never let fame play the game". Believing in yourself and your capabilities is important to outstand, but never let it go to your head. During his interaction, he told the students that they are very lucky to be a part of WWI and learn under the mentorship of the multi-talented showman of the Hindi film industry, Subhash Ghai.