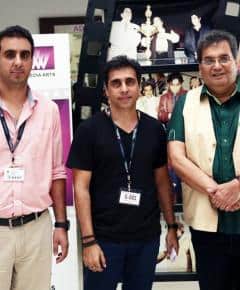 WWI students wear the dancing shoes with dance pro, Ashley Lobo
'Let's get the dancing shoes on!' was the mood set for everyone in Whistling Woods International (WWI) as its founder, Subhash Ghai welcomed Ashley Lobo for the 5th Veda cultural event which aims at connecting students to the art & technique of various art forms. The event began with an audio visual educating the students on various dance forms. Post which, Ashley interacted with 550 WWI students talking about his journey and spoke about the catchphrase 'You can dance.'
Ashley asserted, "Dance is not just a movement, it is always connecting to something. That something can be you, your audience or your subject." He convinced all who claimed to have two left feet by taking them on a virtual ride of imagination and asking them to connect to it, thus building confidence within each one that if they can feel and connect, they can dance.
Aspiring dancers received the advice of practice makes one perfect. He stated, "It's all about mastering and alarming the body to move by itself. Only when you master the body, can you not think of movement but only communicating." While talking about choreographing for cinema, Subhash Ghai too had his share of experiences which the students were delighted to know.
The session became more exhilarating as enthusiastic WWI students stepped on the stage to sway and swirl with dance pro, Ashley. The students dazzled everyone with their freestyle energetic performances. Ashley was generous enough to take time and complement them and as a master also pinpointed the grey areas they could focus on to be even better.
Ashley expressed his gratitude towards WWI and his desire to visit the student again with one of his modern contemporary dance shows. Subhash Ghai and WWI President, Meghna Ghai Puri thanked and felicitated him with the 5th Veda trophy.