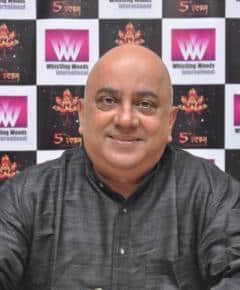 "Stars trained in classical dance, like vyjayanthimala, waheeda rehman, hema malini aishwarya rai, brought dignity to acting on screen for the longest time", said guru Shri Deepak Mazumdar at Whistling Woods' cultural workshop
"Most dance forms originated in India, and through the centuries till date, Indian dance forms have been a wonderful medium to express human emotions such as joy and sorrow in various formats", expressed Deepak Mazumdar, classical Indian dancer, choreographer, teacher and guru at the 5th Veda cultural hub of Whistling Woods International (WWI) to the students of cinema and creative arts. Deepak, who has innumerable celebrity disciples such as Hema Malini, Nita Mukesh Ambani to name a few, enthralled, enlightened and captivated the students through his in-depth session.
When asked about his opinion on contemporary dance forms by young dancers like Terence Lewis and Remo D'Souza, Deepak said, "Indian Classical dance, which hails from the original Natya Shastra also known as 5th Veda, has some rules and follow a typical format. Compared to the contemporary form of dancing, which allows the performers to set their own rules, which he respects, classical dance form may seem a little rigid like the other four Vedas itself. But the inherent fluidity of Indian Classical Dance overshadows everything. The principles of classical dance forms never change and stay intact forever."
Sharing the history of 5th Veda written by sage Bharata Muni, Guru Deepak Mazumdar asserted on the spiritual importance of Indian Classical dance forms and how it allows the performer to connect to the divine himself. He even explained about each hasta mudra and bhava i.e. hand movements and facial expressions. While he demonstrated the mudras and bhava for the students in the auditorium, they instantly started to learn, while understanding the meaning of the same.
"Indian Classical dance forms help one to connect to the divine grace, internally and externally, to help one excel in any kind of performances as an actor, director or artist of any kind", Deepak further added. The students were surprised to know that there are 33 transitory emotions in the expression of any play and if someone follows Natya Shashtra properly, he/she will be able to express these. Guruji also demonstrated nine basic emotions through his mesmerizing performance on stage.
While reminiscing, Subhash Ghai mentioned about his encounter with Pt. Birju Maharaj and said that it is Panditji's influence that has made him respect and realise the importance of Indian Classical dance and he has always tried to portray that through his films.
Deepak Mazumdar appreciated WWI for its unique initiative through 5th Veda, which not only connects the students with various creative art forms from its original initiation to the evolution till date. He demonstrated his classic 15 minutes dance piece depicting a scene of 'Sita Haran' showing fast changing facial expressions and mudras, which thrilled, elevated, as well as enlightened the students to a different level and strengthened their respect for Indian Classical dance even more.