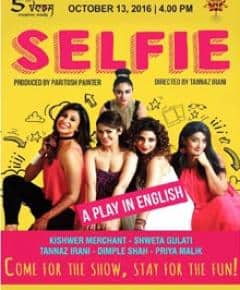 An endless thunder of claps echoed through the auditorium of Whistling Woods International after the spectacular 'SELFIE' play was staged at the 5th Veda Cultural Hub
This week saw the most amusing response from the audience when the versatile television lady leads performed the spectacular theatre play 'SELFIE' written and produced by director Paritosh Painter and directed by Tanaaz Irani. Engaging the audience for over two hours the play touched the souls and left the auditorium with a standing ovation and endless claps for over 5 minutes. The crowd of 400 students not only enjoyed the play but also learned different aspects of direction, during the play.
With the lead ladies – Tanaaz Irani, Kishwer Merchant, Shweta Gulati, Priya Malik and Dimple Shah this play came into existence in July 2016. 'SELFIE' is Tanaaz Irani's third directorial play but by far is the most successful one in terms of the response received from the audiences.
Irani, known for her appearance on small & big screen said "There is a difference of perspective when a lady director directs a play/movie/theatre. This play showcases the nuances, which will show a woman's perspective over emotions differently." She also mentioned never be afraid of hardwork and have enough patience, I've also waited for such a script for 15 years to be proud of what I have made.
Subhash Ghai, Founder & Chairman, WWI thanked the 'SELFIE' team who performed the play at the 5th Veda Cultural session. While closing the session he said, "We are glad Paritosh and Tanaaz accepted our offer to perform in our campus. The response we observed today by 400 students of WWI in not imaginary, it's simply amazing to observe the thunder of claps for such a duration, clearly which means something spectacular just happened. 'SELFIE' is not only a play about various emotions but is also a mirror to various characters women have to observe in their day to day life. We are thankful to all the artist who took the pains and made this possible today at WWI."