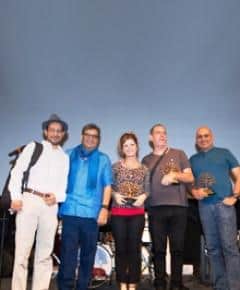 "Jazz is like the little bee that goes from flower to flower"
The 5th Veda session at Whistling Woods International (WWI) turned out to be different this week as the students got a glimpse of the world of jazz music. The session started with the screening of the spiritual AV revealing to the students, 'The Book of Healthy Life'.
Following the AV was a mesmerizing performance by Joshita Dodani, a student of WWI, who as a tribute to the poignant art, got the souls of everyone tapping to the tunes of her music. The session continued with an interesting AV about the story of jazz music, how it evolved over the years, the instruments used and the qualities it beholds, highlighting the contribution of well-known jazz musicians all over the world, shedding light on the similarities between Indian classical music and jazz music. It also showcased the contribution of Indo-jazz to the Indian cinema.
The auditorium of WWI reverberated with sounds of enthusiasm, when veteran jazz musician and faculty, Dee Wood along with his band members – Karim Ellaboudi, Adrian D'souza and Jan Graveson walked on to the stage to address the zealous audience. Students were enthralled by the mesmerising performance of the band. While playing songs like 'Cry Me A River', Dee Wood highlighted how a filmmaker can visualise just by listening to the lyrics of a song. "The songs have a plot behind them. Each song is a plot, a little story in itself", said actress and singer Jan Graveson supporting Dee Wood's thought. Several students left their inhibitions and joined up the band on stage and under the guidance of Jan performed the classical number, 'Summertime', leaving the audience awestruck, as they sang the song soulfully.
The fun-filled evening of the 5th Veda session ended with Subhash Ghai felicitating the band with a token of appreciation amidst thunderous applause marking the end of the 6th season of the cultural hub at WWI.