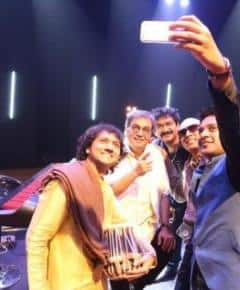 It was a moment of great pride for Whistling Woods International (WWI) and Subhash Ghai to witness his students on the shooting floor with ace flutist, Naveen Kumar, renowned percussionist, Anandan Sivamani and Grammy award winner Vishwa Mohan Bhatt along with Stephen Devassy, Ojas Adhiya, Ranbir Tauna shooting a music video entrusted by the Sony Music company, who had full faith in the WWI alumni's professional excellence. The whole shoot was organized by WWI film and communication institute to pay respect to the great work of Naveen Kumar. The videos were shot by student director, Sunny Sharma and student cinematographers, Smita Nirmal and Richard Fernandez, which were based on three magical sound tracks of flute composed by Naveen Kumar himself.
Naveen Kumar, the most popular flutist in Bollywood music industry has worked with every music composer of India andhas performed at many international concerts. He praised the highly skilled students and said that they are the real future of Indian talent after the shoot got over.
Anandan Sivamani, Stephen Devassy, Ojas Adhiya, Ranbir Tauna and Grammy award winner, Vishwa Mohan Bhatt paid their tribute to NaveenKumar by accompanying him on the instruments whereas the songs were sung by Rimi Nique. 'Harvest Track', 'Journey of the Truth' and 'Silence is Bliss', respectively based on spirituality, positivity and peace are the three tracks shot by WWI alumni at the Filmcitycampus.
'Harvest Track' offers gratitude to Almighty God for good harvest, peace and prosperity of the community living in the villages. The whole feel of the track is happy and is based on north eastern part of the country, specifically Shillong, which is known for its vast green fields. The second track, 'Journey of the Truth' is an inspiring song about truth and hope and gives the feel of a place like Rajasthan, which is close to the desert and has scarcity of water. It revolves around the struggle of a common man for want of water but at the end it leaves the listener with reviving hope. The last track, 'Silence is Bliss' is a soulful and spiritually uplifting track. Bliss, a twin to happiness is achieved through silence. It is said that silence says it all. Thus, the art of silence leads to eternal human happiness.
Subhash Ghai, Founder & Chairman, WWI himself visited the set and greeted the musicians who clicked pictures with him while congratulating him for setting up such a massive campus with global standards and technology. Inresponse Ghai thanked them and said, "It gives me immense pleasure to see our students work with such passion and perfection with the living legends of the Indian music industry."