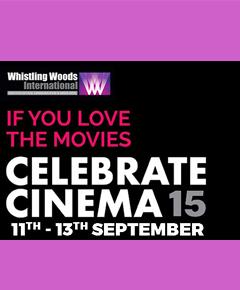 Farhan Akhtar, Mahesh Bhatt, Subhash Ghai among others conduct masterclasses at the country's largest and finest film, communication & media arts institute
The Day 1 of the festival had 2000+ Attendees from various premier colleges of Mumbai, 200+ Pieces of Cinematic Memorabilia, Several Screenings of Iconic Indian and International Films, 30 Hands-on Workshops, 12 Celebrity-studded Panel Discussions, Magnificent Opening Ceremony, Tribute Performances, Film & Technology-related Art Installation. Day 2 and Day 3 to get bigger and better!
Multi-talented Farhan Akhtar and legendary director Subhash Ghai inaugurated city's most awaited film festival – Celebrate Cinema 2015.
The vigor in the air and the gusto in the aura of Whistling Woods International (WWI) were beyond words as the students welcomed the guest with a musical performance followed by an Audio Visual journey of the 100 years of Cinema.
Subhash Ghai and Farhan Akhtar then conducted a masterclass on acting and directing and spoke about the evolution of cinema. The audience was mesmerized as they witnessed a perfect blend of youth and experience. At the session encouraging youngsters Farhan Akhtar said, "Believe in your own ability to make a film that has an impact and to be honest about your work and respect others' work at the same time." Farhan who has donned many hats in the industry further added, "It is very crucial for the actors to respect directors and for directors to be sensitive towards the actors".
Soon after Farhan's exciting interaction, veteran director and producer, Mahesh Bhatt graced the event for an enriching masterclass on People's Pulse and Cinema Today on Producer's Perfect. He congratulated Subhash Ghai and said, "It needs passion and will power by educationist like Subhash Ghai to run an institute like WWI."
Further appreciating the WWI students for putting together such a grand film festival he said, "Celebrate Cinema is one hell of a festival. It gives you the opportunity to touch and choose a generation that is eager to make a foray into the world of cinema. And interacting with such an audience leaves your vitalised."
The Day 1 also witnessed an interesting masterclass with the eminent celebrities from the Marathi film industry including Shreyas Talpade, Ravi Jadhav, Shrirang Godbole and Manisha Korde. Together they discussed and enlightened the audience about the Marathi New Age Cinema.
Celebrate Cinema also showcased the critically-acclaimed movie, 'Peddlers' produced by Sikhya Entertainment, which created waves at the Cannes Film Festival. The team of 'Peddlers' also interacted with the audience.
Exciting contests like playback singing, film poster making and filmmaking contests and various workshops like editing, mobile filmmaking, art and painting, fashion and makeup, comedy workshop and flute and art workshop kept the students busy through the day.
The WWI campus was buzzing with activities as students from various premier colleges from across the city attended Celebrate Cinema with great enthusiasm on the first day. It looks like that something similar would be experienced over the weekend. This is a once in a lifetime opportunity and every cinema lover should make the best of it over the next two days.