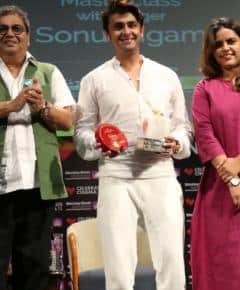 Lights, Camera, Action! Students from across the city celebrated cinema with innumerable stars, industry stalwarts, at Whistling Woods International. On the third and last day Imtiaz Ali, Amole Gupte, Anubhav Sinha, Himanshu Sharma, Subhash Ghai, SonuNigam among many others added colour to the rainbow of Celebrate Cinema
After three days of doing what they love, the attendees of the unique festival Celebration Cinema by Whistling Woods International (WWI) were in for a treat. Evergreen versatile singer Sonu Nigam closed the event with his soulful performance and vivacious masterclass on music. He not only discussed the nuances of legendary singers & their techniques but also inspired the audience by sharing the story of his life with them.
"The music from the golden era of cinema has the real essence of music. If you are a student of music, it is most important to listen to the yesteryear songs as they are classic. Melody and rhythm was given extreme importance and so were the nuances of singing emphasized on. I personally prefer them over contemporary music numbers," said Sonu Nigam while interacting with the audience at Celebrate Cinema.
Over 5000 film aficionados from across the cities participated and enjoyed the biggest celebration of cinema at WWI over three days. This student-led programme was an amalgamation of art, media, technology, music, films, fashion, photography and more.
Subhash Ghai, legendary filmmaker and Chairman of WWI said, "Here at WWI we believe in doing what you love all year long. Our students learn and celebrate movies, music, art, culture and everything good throughout the year. Celebrate Cinema is where we open our doors to everyone and give them a chance to be a part of our celebration. The response this year has been amazing and we are glad that thousands of students and enthusiasts graced the event by their presence."
The day started with a special YouTube panel on Digital Content Creation with youth icons like Tanmay Bhat, Anand Doshi, Satya Raghavan, Sonal Sagaraya, Rishab Shah and Vijay Nair among others. When asked about the unconventional career option of Digital Content Creation gaining momentum with each passing day, AIB-fame Tanmay Bhat said, "Unique and quality content gets audience on the digital platform."
Award-winning directors Imtiaz Ali, Anubhav Sinha, and Amole Gupte conducted the Cinema 2020 panel where they discussed the future of cinema and how they see the evolution of Cinema in the coming decade. Students were enlightened by the knowledge of these storyteller geniuses and got a chance to interact with them.
"Celebrate Cinema is a great initiative by Whistling Woods where aspiring professionals can come and learn from the industry experts. Kudos to Subhash Ghai, Meghna Ghai Puri, students, faculty and the entire team for putting this together beautifully," said renowned director Imtiaz Ali.
The audience also got an amazing opportunity to witness Subhash Ghai and Himanshu Sharma of Raanjhanaa & TanuWeds Manu fame, scriptwriters from two different era in conversation with each other along with Anjum Rajabali.
It was a record of sorts as WWI conducted over 100 workshops and contests during the three-day celebration. Right fromActing, Stop Motion Filmmaking, TV Anchoring and Broadcast, Production Design, Bollywood Dance, Fashion Makeup, Velfie, Green Screen, Improv Comedy, YouTube to Colour Gradingamong others, participants enjoyed a variety of subjects and learnt about them while having fun. Subhash Ghai and SonuNigam also presented awards to the winners of the contests conducted over the three days.
The magic of Celebrate Cinema 2015 will continue, to support the NGO Organ India, as participants will compete to create a documentary on the theme 'Organ Donation', a cause supported by WWI. President of Whistling Woods International Meghna Ghai-Puri concluded her vote of thanks with a quote by Filmmaker Quentin Tarentino "If you just love the movies enough. You can make a good one."