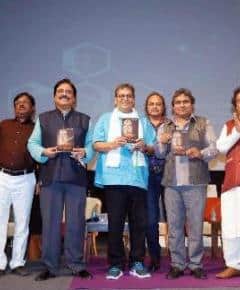 "Shayari Inspires People to Nourish their Human Qualities and Remain Compassionate Forever," said Renowned Shayar Shakeel Azmi at the 5th Veda Session of Whistling Woods International
~ The session celebrated poetry of all genres by Shakeel Azmi and his team and motivated the students with new meaning of life, love, and many other human emotions through sher-o-shayari ~
'Poetry is a spiritual space which broadens the horizon to enlighten one's mind.' This thought was emphasized on by 7 renowned poets at the Mushaira evening of the cultural hub of WWI, 5th Veda. These poets, Shakeel Azmi, Pragya Vikas, Panchhi Jalonvi, Swapnil Tiwari, Shakeel Ahmad Shakeel, Omar Farooq, Afsar Jamal and their enchanting rendition of shers (couplets) made it an evening to remember for an auditorium packed with more than 500 students.
Subhash Ghai, Founder & Chairman Whistling Woods International (WWI), emphasized on the importance of poetry in the creative world. He cited that the students who are all set to enter the reel world from the real one, should be well-versed with poetry as this form of art explains human emotions, feelings, and nature in detail. He aptly suggested the relevance of songs in films, which are poetries sung in melodious tunes. "Our films have situational songs as these are necessary to explain the philosophy of the characters." He further added, "to visualise any art form properly, a creative person must dig deep into poetry and understand the actual meaning of the inner soul."
This institute has its own poetic society which is correctly named as 'Kachhi Kalam'. The session started with three aspiring poets from this society reciting verses and receiving accolades for their creation from the experts and fellow students.
The experts present at the session highlighted, that poetry results after a person have experienced melancholy, anguish, dejection and tragedy. While penning a prose, one often goes through a splurge of these emotions. The seven poet panel was as illustrious as their thoughts and poetries and they presented their unique style with elan.
The students cherished the firebrand shayari of Pragya Vikas and appreciated the satirical poetry of Swapnil Tiwari. While they revered the short and crisp presentation of Panchhi Jalonvi, the traditional flavour of Afsar Jamal's recitation made them wonder in awe. Omar Farooq, professionally a businessman and Shakeel Ahmad Shakeel, a powerloom mechanic, captivated the students with their elusive style. Last, but not the least, the anchor of the evening, Shakeel Azmi received a standing ovation post narrating some of his new work.
It is practically impossible to summarise the learning of such an illustrious 'literary' evening, as Shakeel Azmi rightly said, "It is impossible to do anything big if you are not romantic." He elaborated that a person who is romantic at heart will love any form of art. He further emphasized that the students must nurture their learnings from this Institute to attain success in the creative world of film and media.
The poets were bestowed with a token of appreciation by Subhash Ghai. The enchanting evening ended with the unveiling of Shakeel Azmi's first Hindi poetry book, Paron Ko Khol, published by Manjul Publications.