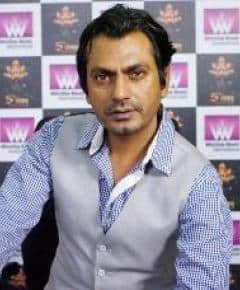 One of India's finest actor, Nawazuddin Siddiqui, shared his life's journey and secret mantras of acting at the 5th Veda session
The house-full auditorium of Whistling Woods International (WWI) shouted out loud to experience an event of lifetime – an interactive session with India's one of the finest actor, Nawazuddin Siddiqui. The actor not only shared his experience of struggle of 20 years but also several anecdotes from his journey, from live theatre to mainstream cinema.
The session kicked off with an interesting AV on acting as a talent, followed by a documentary on key mainstream actors who made their way to success through rough paths. The AVs were followed by an intellectual Q&A session moderated by Subhash Ghai, Founder and Chairman, WWI. Nawazuddin felt welcomed and was touched by the gratitude and love expressed by the students and staff of the institute.
During the session Nawazuddin recalled his college and early acting days, where he faced an unmatched struggle. He related himself to the present batch of WWI and shared all possible aspects, barriers and struggles he faced, before the 'claim to fame' he experiences today came by. He told the students that "being an educated actor helped me immensely. Yet it was important to know not to take myself too seriously."
The versatile actor not only engaged with the students about his journey and experiences but also shared with them several acting tips and his secret mantra to success. While addressing the students he mentioned, 'Undying passion of practice for 10 years is the key to his success and stardom today'. Nawazuddin explained the students on how live theatre and mainstream cinema are both equally challenging in their own capacities and also performed some characters from his plays and movies to give the audience an experience of both platforms.
The highlight of the evening was the tribute paid to the actor by the students of Whistling Woods International, who showcased their acting skills and were appreciated for their efforts and talents by the renowned actor himself. During his interaction with the students he also mentioned how fortunate they were to be a part of an institute like Whistling Woods International, to nurture their skills under the expertise and guidance of the ultimate showman, Subhash Ghai and they must make the most of it.