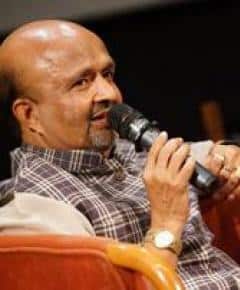 The melodious music of 90's soothed the ears of the Whistling Woods International (WWI) auditorium filled with 400 odd students, who were keen to receive the knowledge on the 'Art of Songwriting' by the legendary lyricist Sameer. An artist, with a soulful lyrical background and a Guinness World Record holder for his compositions of over 4000 songs and work in more than 600 movies in his career. Sameer was full of insights and inputs at the 5th Veda session at WWI; as he wanted to share his experiences of building a successful career in the stream of poetry and writing lyrics.
The legendary lyrics writer shared his experience and journey from being a Commerce postgraduate to his first break with movie 'Dil' and then becoming the lyrical legend. During the enlightening session he also shared his secret mantra of success in Indian Cinema with the students and said "Veerangi, Deewangi and Aawargi is a must for any creative person."
The session was moderated by Subhash Ghai, Founder and Chairman, WWI who also made Sameer do some on-spot composition as his contribution to Whistling Woods. The highlight of the event included lines written by Sameer for the students of Whistling Woods, he said: "Jaha se bandh hote hai saare raaste, wahi se naya rasta nikalta hai (2), Jinko samjhate hai hum ajnabee, aksar unhi se koi waasta nikalta hai". He mentioned about his love for students and was honored to be a part of the 5th Veda session, where he got a chance to speak to the budding song writers/lyricists.
He also advised the students that during your struggling period, there is no word as 'NO', one cannot say a no to any kind of work received in the initial days of your career; one has to agree and accept all the challenges that come their way in life. During the interaction with the students, he also mentioned that the students of WWI were lucky to have a mentor like Subhash Ghai who is much known as the Original Showman of Indian Cinema.