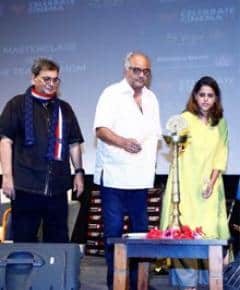 Team MOM Inaugurates the 6th Edition of Celebrate Cinema at Whistling Woods International Amidst Great Excitement And Fanfare
~ Producer Boney Kapoor, Director Ravi Udyawar, and Writer Girish Kohli narrated the story behind the making of Mom in the opening masterclass, scholarships were awarded to students of merit ~
The coveted platform offering an opportunity to rub shoulders and interact with the best of the industry experts – Celebrate Cinema 2017 is here! This year's edition embarked in the presence of veteran producer Boney Kapoor, accompanied by the gifted team of Mom comprising director Ravi Udyawar and writer Girish Kohli. They graced the occasion that started by the inaugural lamp lighting ceremony followed by a captivating 'Guru Vandana' by Ameya Dabli.
Through the platform of Celebrate Cinema, Whistling Woods International (WWI) provides the aspiring students with an opportunity to learning the artistic, technical and commercial aspects of the media and entertainment industry. The institute, which takes social causes seriously, continues to educate underprivileged but talented kids in association with Salaam Baalak Trust. The opening ceremony also witnessed two of these students being awarded Subhash Ghai scholarships. In addition, Lata Mangeshkar and Dilip Kumar scholarships were bestowed upon WWI students of merits as well.
The ceremony interestingly turned to a masterclass when the 'showman of the millennium' Subhash Ghai took over the stage and requested the team of Mom to narrate the story behind the making of the film. The knowledge-hungry students were enthralled as they listened to the experience in detail. Emphasis on choosing the right actors for the star cast of the film was markedly stressed upon!
Speaking at the occasion, acclaimed producer, Boney Kapoor said, "The alumni of Whistling Woods International are doing very well in the industry. Needless to say, that the opportunity that this institute is providing in ensuring quality education is noteworthy."
Founder and Chairman, WWI, Subhash Ghai shared, "A personal touch is extremely important when it comes to filmmaking. Celebrate Cinema is offering the students to inculcate knowledge from the best in the industry. The panel discussions, workshops, etc. are very useful for the ones who aim to be acquainted with the tricks of the trade."
The joyous event gave a sneak peek into the action-packed two days that will follow, making this year a truly memorable one in the history of Celebrate Cinema, evidence to one clear thought – this year's event is going to be different compared to all.