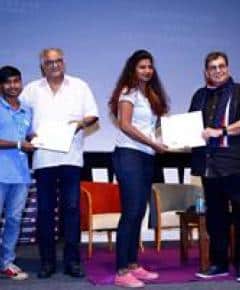 Yesterday was an evening filled with glitter and fanfare of celebrating cinema with 1000 students and cinema enthusiasts at Whistling Woods International's (WWI) campus in Mumbai. Depicting the history of cinema through paintings, photo galleries, murals along with music, movies, workshops and masterclasses by experts and celebrities, the 6th edition of Celebrate Cinema took off on a high note.
The inaugural event was held with team of the film, MOM and WWI President, Meghna Ghai Puri awarded scholarships in the name of Dilip Kumar and Lata Mangeshkar to the students of merits. She also announced a new scholarship in the name of Subhash Ghai for underprivileged children. The purpose of this scholarship is to provide free of cost education to underprivileged aspirants of cinema.
Subhash Ghai said, "I feel blessed to provide free education to underprivileged children with talent at Whistling Woods International. I am sure they will rise and shine in the industry with excellent merits."
Meghna Ghai Puri also announced WWI's association with 'Ekam Satt', an organisation spreading spiritual power amongst younger generation under the leadership of famous singer, Ameya Dabli and his team, through their spiritual musical shows all over India. Subhash Ghai and his team would be an integral part of these shows. Ameya Dabli rendered the magical prayer, 'Guru Vandana' at the inaugural ceremony.
It was followed by a masterclass with the talented team of the film, MOM with question answer session between the students and producer, Boney Kapoor, director, Ravi Udyawar and writer, Girish Kohli.
The excitement of Celebrate Cinema continues till 23rd Sept at WWI campus with more than 75 workshops on various art and crafts of cinema with several highlights.