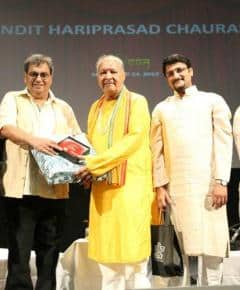 Flautist Pandit Hariprasad Chaurasia creates magic at the 5th Veda Event:
"My journey began from being a son of a wrestler from Allahabad to beaming a flautist in the international arena" – Pandit Hariprasad Chaurasia
This week, at the 5th Veda cultural hub, Pandit Hariprasad Chaurasia left 550 WWI students mesmerised by playing soulful melodies on flute. The event commenced with an audio visual that enlightened the students on various kinds of flutes, its origin, its mark in the music industry & the globally recognised remarkable flautist, Pandit Hariprasad Chaurasia being one among them. It was followed by an incredible performance by the WWI students of the song, 'Jadoo Teri Nazar', originally composed by Pandit Hariprasad.
Having shared a bond while working together in various films, Subhash Ghai requested Pandit Hariprasad to play a few Hindi tunes. Together they recreated a magical moment with the melody of 'Hero' tune. The standing applause clearly indicated the boundless impact; the classic tune has till date. "I enjoy being a student instead of a teacher", replied Pandit Hariprasad when Subhash Ghai asked him to share a few experiences with WWI students to help them carve their way to their dream of being a legend like him someday.
Pandit Hariprasad was generous enough with his time as he interacted with the students, explaining and demonstrating the various ragas. "The music that touches your heart is the only right form", he said while answering one of the questions. As desired by the students, he also played the 'Malgudi' tune and old classical tunes like 'Rang Barse'. As much as the students were impressed with the melodies he created, they were equally appealed and captivated with his simplicity, honesty and live humour. He also shared his journey from being a wrestler's son to one of the most acclaimed and globally recognised flautist.
While addressing the students, our Founder & Chairman, Mr. Subhash Ghai said, "It is an honour to have Hariji grace the occasion. The important part was that students understood the passion, zeal to achieve and ways of improvising talent from him. He further added that he is a man of simple words and his simplicity towards people is what makes him who he is today."
Overall, the event was majestic. It ended with Subhash Ghai honouring Pandit Hariprasad with the 5th Veda trophy for his outstanding contribution in popularising Indian Classical Music all over the world.