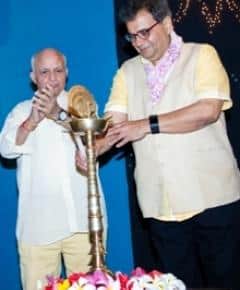 Whistling Woods International inaugurated the 7th edition of Celebrate Cinema by paying a tribute to the legendary director, Late Shri. Yash Chopra on his 86th Birth Anniversary
Instituted to commemorate the glory of Hindi Cinema and to provide a platform to exchange thoughts with the industry experts, Whistling Woods International (WWI) inaugurated the 7th edition of Celebrate Cinema. The 'open-to-all' annual event, seeks to offer an enriching experience to the enthusiasts and aspirants of the world of film, communications and creative arts. This year's festivities began on a joyous and inspiring note with the celebration of the 86th birth anniversary of the legendary director, Late, Shri. Yash Chopra.
As WWI paid homage to Late, Shri. Yash Chopra, the audience were amazed at the legend's vision, who created iconic and blockbuster movies and paved way for generations to come. The event commenced with an AV highlighting the journey of the director. It provided the audience with insights into the life of a maestro, characterized by sheer hard work and determination to achieve success. To further celebrate the legend's glory to the fullest, the event witnessed students from the WWI School of Music performing on the popular songs from Yash ji's movies. The students attained valuable insights from the panel discussion on screenwriting where Subhash Ghai (Founder & Chairman, WWI), Ramesh Talwar (film director and associate of Late, Shri. Yash Chopra) and Anjum Rajabali (HOD, Screenwriting, WWI) highlighted about the incredible cinema of the director.
Ramesh ji narrated Yash ji's journey from creating movies, which catered to depict social issues to being the 'King of Romance'. While sharing the technicalities and personal stories behind the highly popular movies of Yash ji, he added, "Yash ji was deeply inclined towards literature. He believed in the philosophy of first being educated in order to educate others."
Commenting on Yash ji's cinema and his classic movies like Daag, Dhool Ka Phool and Silsila; Subhash Ghai shared, "Yash Chopra was a magician. He had a great understanding of the 4C's- Casting, Costume, Camera and Content." Further explaining the students, Subhashji said, "Yash Chopra's cinema is celebrated to acquaint young aspirants like you with a legend who was not only passionate but obsessed about cinema."
In addition, Anjum Rajabali discussed how Yash ji would always be on an expedition to discover good scripts and talented writers. Emphasising on the importance of scriptwriting in a movie, he enlightened, "A good script may make a bad movie. But a bad script can never make a good movie."
The illustrious event marked it end with a thunderous applause as Ramesh Talwar was presented with a sketch of Late, Shre. Yash Chopra and a token of appreciation by Subhash Ghai and Meghna Ghai Puri. As departing words, Subhash Ghai said, "Yash ji made 22 films and lived 22 lives. He has become immortal for us. Happy birthday Yash ji! Long live Yash Chopra Cinema."