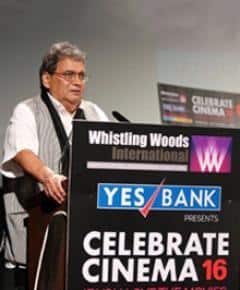 Whistling Woods International (WWI), Asia's largest Film, Communications and Media Arts institute inaugurated the 5th edition of its annual property, Celebrate Cinema. The exciting, glamorous yet educative two actioned-packed days saw an amazing response of students of film, fashion, animation & media and communication aspirants with a 2500 people foot-fall on the first day of Celebrate Cinema'16. With multiple workshops by industry experts, celebrity-studded panel discussions, movie screening and masterclasses, the event took off on grand note on its very first day after the inauguration ceremony with Boman Irani and Anand L Rai, which was held yesterday.
In the true tradition of WWI, the festival kick started with a lot of cheers and excitement within the participants who made their way to attend the two day long action-packed festival in the lush green campus of WWI at Filmcity. Like every year, the 5th edition of the festival was also inspired with a social cause of 'SAY NO TO DRUGS.' Documentary's made on the associated cause were extremely heart-touching to the audience present at the session at large, which was then followed by screening and panel discussion with Director and Writer of Udta Punjab.
Subhash Ghai, Founder and Chairman, WWI on the occasion of the launch of Celebrate Cinema, said, "This year WWI is not only celebrating the 5th edition of Celebrate Cinema but is also rejoicing a landmark year for the institute as we complete 10 years of creating competitive and industry-ready professionals. What better a beginning could be than having a wonderful session on the most important element of today's cinema i.e. 'Comedy' and 'Social Responsibilities'. It was an honour to have people like Boman Irani and Anand L Rai at the inaugural ceremony and Abhishek Chaubey, Sudip Sharma, Swara Bhaskar, Jim Sarbh and our very own alumni, Shashank Arora on the first day to talk about the topics that the masses resonate with the most. Celebrate Cinema has always received tremendous affinity and popularity from movie lovers and enthusiasts in the past. We look forward to witnessing another successful feat of the festival, where attendees can celebrate their love for movies and get access to all aspects of it in the most exciting and informative manner."
The highlight of Day 1 included panel discussion with the team of Udta Punjab who spoke about the severity of drug in the Indian society and role of cinema in changing the perceptions amongst the youth about substance abuse. Abhishek Chaubey, director of Udta Punjab, said, "The suffering due to drug intake has been a prolonging issue in India however by far there are movies made focusing specifically on this issue. Udta Punjab addresses the root cause of the issue and shows the power of Indian Cinema as an influencer."
The panel discussion on Filmmaking 20:20 addressed different aspects of how actors choose roles while reading different scripts. The discussions was extremely relevant to the audiences as majority of the present were aspiring actors and filmmakers who were intrigued to know what it feels like to make and receive offers, from directors to actors.
"Celebrate Cinema, as the name suggests, is a platform to celebrate the legacy and tradition of the various aspects of Indian Cinema. These two action-packed days not only provide the attendees with an opportunity to learn to celebrate their love and affection for Indian movies but also offer a platform to interact with professionals, who are an inspiration to them. As each year, this year too we feel proud to announce scholarships to two underprivileged students who are extremely passionate about making their careers in this industry." said Meghna Ghai Puri, President, WWI
Additionally, to raise awareness and extend it to a larger youth audience, around 2500 students from various institutions across the city were given open access to free workshops held during the event. Day 1 came to an end with an exciting magic and illusion act by mystician Ugesh Sarcar, who engaged the audiences with his talent based on the theme 'Your Mind is Mine'.
Highlights of the Day-1 at Celebrate Cinema'16
Panel Discussion on 'Importance of Humour in Indian Cinema with Boman Irani, Director – Anand L Rai and Somnath Sen moderated by Subhash Ghai
Movie Screening of Udta Punjab
Masterclass with Director – Abhishek Chaubey and Writer – Sudip Sharma, Udta Punjab and Eldred Tellis moderated by Subhash Ghai
Panel Discussion on Filmmaking 20:20 with Swara Bhaskar, Jim Sarbh & Shashank Arora moderated by Anjum Rajabali
Magic and Illusion Act session by mystician Ugesh Sarcar
Special Workshops by Sorabh Pant, Zakir Khan, Rabiya Nazki, Lubna Salim, Sophy Sivaraman and Karan Butani
Street Play by students of WWI Drama Society to spread awareness about drug abuse
Looking forward to the finale of the two-day fiesta, everyone called it a day.
So, if you love the movies here's what you can watch out for at Celebrate Cinema 2016 Day 2
YouTube Digital Panel with Satya Raghavan, Gurpreet Singh, YouTuber Rickshawali, Prajakta Koli (MostlySane), YouTuber Be YouNick & Chaitanya Chinchlikar
Panel discussion on 'Literature to Cinema' with Vishal Bhardwaj, Amish Tripathi, Pubali Chaudhuri, Sriram Raghavan & Basharat Peer
The last day of the event also include other key highlights like, Masterclass on 'Directing Actors' that would be conducted by Subhash Ghai along with Govinda, Mahima Chaudry, Shreyas Talpade and Gulshan Grover. Additionally, an interactive one-on-one with Anu Malik followed by a panel discussion with new-age singers like Akriti Kakkar, Brijesh Shandilya, Samira Koppikar & Tony Kakkar
To celebrate the growth of cinema with Whistling Woods International, visit the Celebrate Cinema Festival today at Filmcity complex, Goregaon.