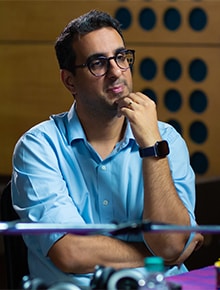 Whistling Woods International's (WWI) School of Media and Communication (SMC) celebrated International Podcast Day, with a live podcast on Consumption of Content, and how it will play out in the future, based on all the new forms of technology and devices.
Mr. Rahul Puri – Head of Academics, WWI, along with our guests, Mr. Chaitanya Chinchlikar – Vice President and Chief Technology Officer, WWI, Ms. Namrata Singh – Managing Partner, The First Principle, Mr. Samar Khan – Director, Writer and Producer, and Anandita Chandra – Student, WWI School of Media and Communication discussed about the Consumption of Content.
Moderating the panel, Mr. Rahul Puri questioned the panel about the various aspects of content, content platforms, the consumers' consumption scenario, and the technologies that will influence content creation and consumption in future.
In response, Mr. Chaitanya Chinchlikar highlighted a significant point saying, "The cost per GB of data in India came down from approximately INR 16/17 per GB to about INR 3.5/4 per GB in 2019. As a result of which per capita GB consumed per week has doubled in one year, going from 4 GB to 8 GB. The reduction has led to double the consumption." He also advises, "Stop finding customers for your content. You have to start finding content for your customers."
Further, the panel elaborated interesting insights on the types of content, what are the various content platforms and their uniqueness, the business models that content creators will have to formulate, the type of viewership, importance of audience demographics, VR as a content platform, and decisions that consumers will have to make.