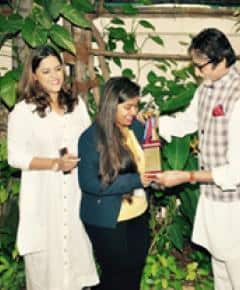 After the Dilip Kumar & Lata Mangeshkar scholarships announced by Whistling Woods, the Institute now has announced The Amitabh Bachchan scholarship.
Filmmaker Anand Pandit of Anand Pandit Motion Pictures has sponsored 5 lacs for this film & media scholarship in the name of Veteran Actor Mr Amitabh Bachchan. This year's scholarship was awarded to Ms.Shraddha Thorat, a filmmaking student of Whistling Woods International (WWI).
"I feel a scholarship is a small contribution to immortalise the biggest icon of Bollywood as well as give an opportunity to those who show true talent," commented filmmaker Anand Pandit.
The Amitabh Bachchan Media Scholarship will be awarded each year to the students of Cinema and Media after a meticulous and exhaustive evaluation process. This will include their skills, creativity, imagination, art of implication amongst other parameters. This scholarship will not only benefit the students monetarily but will also motivate them to strive harder to achieve the said recognition.
"I hope this scholarship will push students of cinema to strive for excellence. It is a wonderful gesture by Anand to harness and nurture new talent. He is a dear friend and I am humbled by his gesture in instituting this initiative. I hope this scholarship helps talented individuals to pursue their love for cinema," said Shri Amitabh Bachchan.
On the occasion, Mr. Subhash Ghai, Founder and Chairman, Whistling Woods International said, "I am extremely grateful to the ace filmmaker Anand Pandit to launch this scholarship initiative for the students of Cinema and Media to motivate them to perform better and raise the bar of competition amongst them. Every year one student who fine tunes his/her work and merits in their respective skills, will be awarded he scholarship in consultation with Mr. Bachchan and Mr. Pandit."
With the announcement of the scholarship, Shri Amitabh Bachchan handed over the Amitabh Bachchan Media Scholarship trophy, certificate and cheque to Shraddha Thorat, the winner of this year's scholarship initiative from WWI.
"At WWI, we have always recognised young talent and have motivated students to add merit to their growing careers. After the Dilip Kumar and Lata Mangeshkar scholarship that we at WWI offer, it's an honour to have a scholarship programme in the name of Veteran Actor and Megastar Shri Amitabh Bachchan. It's a privilege for the students and the institute to receive acknowledgement and appreciation from none other than the Megastar himself", added Meghna Ghai Puri, President, Whistling Woods International, on the launch of the initiative.