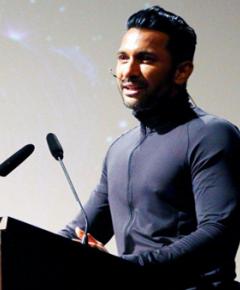 "Life doesn't give you any guarantee, but we must all take a chance," said legendary dance master, Terence Lewis at the 5th Veda session of Whistling Woods International
~ The riveting session witnessed Terence Lewis share his invaluable knowledge and shake a leg with the students at the institute ~
"Life doesn't give you any guarantee, but we must all take a chance," said legendary dance master, Terence Lewis at the 5th Veda cultural hub to over 500 students in attendance at Whistling Woods International (WWI). He then shared his story of coming from a humble household to becoming one of the most renowned choreographers in the country today.
Giving advice to the students, he said, "Be persistent, be consistent and at the same time be practical. Dream big but take practical steps towards your goals. Then the impossible will soon become possible. The trick is to break down the larger goal into small doable steps and keep at it, every single day."
Commenting on maintaining focus, Terence shared, "I can't stress enough on how important it is to maintain one-pointed focus towards your goal." He added, "In a competitive world today, you cannot keep waiting around for the right opportunity. Make sure that you are completely ready and that why it is so important to train yourselves, 24/7." He further added, "Fall in love with your craft and make it your affair; nothing else can be important."
Terence then went on to speak in detail about classical dance and contemporary dance and taught the students how these dance forms differ. The air was thick with excitement when Terence invited students on stage to teach them some of the most popular dance moves. He raised the entertainment quotient of the evening by performing a never-seen-before routine, with his trainers.
Subhash Ghai, Founder & Chairman, WWI said, "After working for forty years of my life as a director, I wish I could attend workshops like these in my younger days. I can tell you that this is one of the finest dance workshops that I have attended today, as a student. I thank Terence for sharing his knowledge, his techniques and his story with us. It is a pleasure to host such an illustrious dancer and choreographer on this stage."
Highlighting the importance of being educated at an institute like WWI. Terence said, "Students here are fortunate to have such an institute, there is nothing like this. You need the right space and environment to succeed along with such amazing teachers. This all comes forth from Subhash Ghai's passion and his sensibilities to give that extra to the students and broaden their horizons."
Terence Lewis and his team of trainers were bestowed with a token of appreciation by Subhash Ghai. The riveting session ended with everyone grooving to popular Bollywood dance numbers.