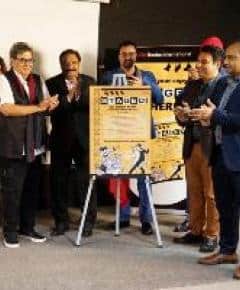 ~ 'STAGED!' launched in a unique way amongst 200 Media students followed by a Masterclass on event management~
Stalwarts from the events industry came together at Whistling Woods International (WWI) to launch a unique book titled,
STAGED!
, co-authored by
Deepak Choudhary
and
Sapna Gupta Navneeth
. The evening witnessed the presence of event gurus like
Sabbas Joseph
, President – EEMA and Director – Wizcraft International Entertainment;
Manish Gandhi
, COO & Executive Director – Asian Business Exhibitions & Conferences Ltd.;
Martin Da Costa
, CEO – Seventy Event Media Group;
Mohomed Morani
, Director – Cineyug Group of Companies,
Vinit Karnik
, Business Head – ESP Properties and
Ajay Mago
, Publisher, Om Books International. The book not just offers exciting stories live from backstage but also important insights on the size of the industry and the scope of its engagement from these event gurus who have shaped the business of live events in India, from its inception to the current form, over the two decades.
The book launch was followed by a masterclass on event management at WWI, which saw an action packed venue with students of School of Media & Communication, moderated by Rahul Puri – Head of Academics, WWI. For the first time ever leading event gurus came together to share knowledge about event management and its fast-paced industry in the digital world. The panel discussion focused on trends of the events industry, event management as a growing career option and its endless possibilities with respect to scale and the need for events in every aspect of life.
Rahul Puri, Head of Academics, Whistling Woods International, said: "The masterclass on event management held today at WWI has given the students an insights and overview of the events industry and benefits of a professional career in this field. We at WWI, encourage learning of students in different off-beat careers as a part of their curriculum, which gives them a better exposure when they step in the industry as professionals. Event management is now well-recognised as a career option and there has been an incredible growth in the number of students opting for this career path. We are glad, that through WWI we give our students enough exposure, which ensures them a successful career."
The panel discussion was kicked-off with the launch of the book, STAGED! With a foreword written by the original showman of live events, Subhash Ghai, and an introduction by Sabbas Joseph, EEMA President and Director, Wizcraft International Entertainment, the book features top 17 industry leaders who have been instrumental in creating an 'events' industry in India, where there was none.
Subhash Ghai, Founder & Chairman, Whistling Woods International, said: "I am glad we could provide a platform to the students to learn and gain practical knowledge from today's masterclass on events, where all the industry stalwarts have come together to share their knowledge with the WWI students. Also, what makes STAGED! special is that it captures incidents, stories and defining moments in the journey of live events, therefore capturing the 'reality' of the industry. But since then the industry has come a long way! With this panel discussion WWI students now have a wider perspective and clearer insights about the events industry."