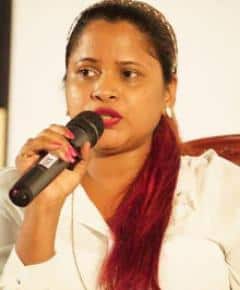 Tracy Dsouza creates Progressive and unprecedented quality films. Combining her formidable advertising experience with talented Directors, an emphasis on storytelling, detailing, aesthetic sense and a gift for decision-making, Tracy brings that edge to a film, which makes audiences and clients happy!
Tracy has worked with the leading names in Digital, Advertising and Film to include TVF, Prahlad Kakar, Uzer Khan, Vishal Punjabi, Hollywood DP/director Emmanuel Lubezki (Chivo) and many more. She has worked on films for leading brands like P & G, KingFisher, Commonfloor, TOI, CashKaro, Apple, Samsung, AC Black, Maggi, Horlicks, King Henry, Rasna, Emami, Officers Choice and countless others. 'Can't' and 'Impossible' are words that do not exist in Tracy's dictionary. Her motivation and undying passion for films is evident as is her immense skill in interpersonal relations and business awareness.
In Dec 2013, she was offered to executive produce videos for TVF. In the process of speaking to brands, the realization dawned that Tracy had a penchant for branded content solutions and was directly handling solutions and sales with ease and thus took on a role of Head: Brand Solutions TVF in 2014. During this period she overlooked a lot of branded content sales/solutions for TVF inclusive of Permanent Roommates Season 1, TVF Pitchers, Barely Speaking with Arnub (Arvind Kejriwal), Tech Conversations with dad, etc and some that are scheduled for release this year. At the end of 2015, she graduated to heading Girliyapa ( a women centric) channel that creates progressive content with TVF's assistance. Some of the releases include The Period Song, Why should hot girls have all the fun, etc., She envisions and hopes to make Girliyapa a progressive community for women.