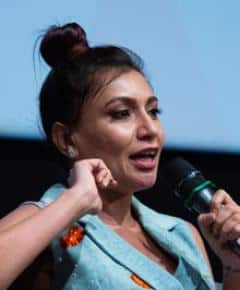 "YOU MUST ENSURE THAT YOU BEHAVE ON SOCIAL MEDIA THE SAME WAY YOU WOULD IN PERSON," SHARED MALINI AGARWAL AT MASTERCLASS FOR WHISTLING WOODS INTERNATIONAL'S SCHOOL OF MEDIA AND COMMUNICATIONWhistling Woods International (WWI) School of Media and Communication recently hosted famed digital influencer and entrepreneur, Malini Agarwal for an interactive masterclass. In a session moderated by Rahul Puri, Head of Academics at WWI, the founder of the upbeat blog MissMalini described her journey to digital stardom and shared rare and commendable insights on the pivotal role played by social media in today's digital landscape.
Upholding the importance of creating content with a personality and a voice, Malini Agarwal highlighted, "Always remember that you're speaking to real people – this is very easy to forget when you only interact with them from behind a screen. Make it a point to constantly question yourself. You must ensure that you behave on social media the same way you would in person."
While answering to the query raised by a zealous student – How does Malini Agarwal separate her persona from her virtual self, she explained, "When I first started blogging my identity revolved around being a virtual BFF (best friend forever) to people. This made me realise that I was putting myself in a box." She further stated, "Today MissMalini represents global brands, but I always take time to remember that my online and personal identities are distinct from each other."
With the session drawing to a close, Malini Agarwal shared her insights on the way forward for social media, revealing, "The future of the industry is going to be shaped by content. But even though the content is going to be king, there is a severe lack of talented scriptwriters in the industry."
The session came to an end with Rahul Puri presenting a token of appreciation to Malini Agarwal, as the students displayed their appreciation with deafening applause.