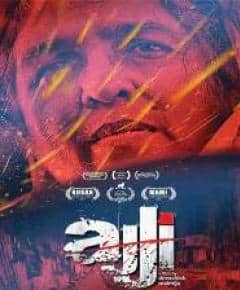 Devashish Makhija's Ajji – A Present Day Fable Of Justice And Revenge
Initalising an era of equalisation, trio Devashish Makhija, Siddharth Anand Kumar and Jishnu Bhattacharjee talk about their path-breaking movie , Ajji and the process of its making in a session with the students of WWI
"Imagery does not come in writing. It comes in re-writing" said Devashish Makhija, director and screenwriter of the movie,Ajji. After being a part of movies like Black Friday and Taandav, Devashish led his research to explore dimensions in Indian cinema that were still untapped by adopting true-to-life storytelling approach.
While narrating the importance of research in moviemaking, Devashish mentioned that while a lot has been spoken about people creating conflicts against religion and gender, very little has been done about it. This is what led him to make the movie, Ajji, which shows how a helpless protagonist – the 60 year old grandmother, given her constrained situation rises up to serve justice in a way of equalization, for her granddaughter who has been raped. When inquired about what component made the movie one-of-its-kind, Devashish responded, "Ajji has a subtextual layer to it. It is an original adaption of the fable – The Little Red Riding Hood."
In relevance to the unconventional idealogy and need for educative cinema, Siddharth Anand Kumar the producer of Ajii and Vice President – Films & TV at Saregama India Ltd. added, "Independent films in India are largely disorganised." He also further explained, that for indie cinema to be viable, filmmakers need to make more of them for the audiences to reflect and develop a liking. During the session quite a number of inputs were shared by cinematographer of Ajji, Jishnu Bhattacharjee. He re-counted his experiences and challenges of shooting through hand-held camera. When enquired about his raw and organic finesse, Jishnu said, "When directing hand-held, go by your instinct. Just be prepared to shoot. Yes, there is a plan for shooting. But not everything goes according to the plan."
This session marked its end with a Q&A round with the students. Some departing teachings from Devashish Makhija included him emphasizing upon team work, effective communication and creating an 'one-body-two-souls' relationship, especially with the DOP. The whole team was then bestowed with tokens and applauds of appreciation.