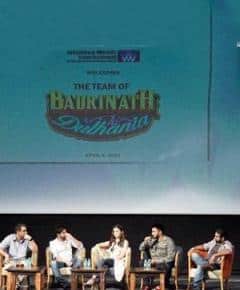 "Give failures a big hug! To appreciate sunshine, you have to face rains," said Alia Bhatt during the masterclass at Whistling Woods International
~ Director of 'Badrinath Ki Dulhania', Shashank Khaitan along with his actors, Alia Bhatt, Varun Dhawan and Sahil Vaid shared the tricks of filmmaking and acting with the students ~
Roaring applause filled the auditorium at Whistling Woods International (WWI), when alumni actor-director Shashank Khaitan, actor Sahil Vaid along with Varun Dhawan and Alia Bhatt graced the stage for the masterclass at the institute. The team of 'Badrinath Ki Dulhania' immediately took to answering engaging questions put across by Rahul Puri, Head of Academics at WWI, who moderated the session.
The masterclass witnessed all the three actors and the director sharing great insights about filmmaking and acting. While Varun Dhawan revealed his process to tackle a challenging character like Raghu from 'Badlapur,' Alia Bhatt revealed how she makes the decision to select a script. Shashank Khaitan and Sahil Vaid also stressed on the importance to keep learning something new on a daily basis.
Addressing the students, Shashank Khaitan said, "Never consider yourself to be a struggler. I have never considered myself to be a struggler because I am constantly learning. You can only be a struggler if you are not engaged in learning something new every day."
Sharing acting tips with the students, Varun Dhawan said, "Never curb yourself. Let people think you are mad and crazy. This is one advice that I have received from most of the actors in the industry."
Both the lead actors, Alia Bhatt & Varun Dhawan expressed their complete faith in Shashank Khaitan as a director. When they saw his passion for 'Badrinath Ki Dulhania', they knew it would be something magical.
During the interaction, Alia Bhatt also shared how she dealt with times when her films didn't perform as expected. "Give failures a big hug because to appreciate sunshine, you have to face rains. After all, we only see rainbows after the rains. The joy is in falling, picking yourself up again and charging ahead", advised Alia to the students on ways of dealing with failure.
On the occasion of coming back to his alma mater, alumnus Shashank Khaitan said, "This visit has made me very nostalgic and I want to thank all my faculty members, as I believe it is because of them that I am here today."
He further added, "Whistling Woods International, greatly helped me in exploring my talents and giving me the right resources and the perfect platform that further enhanced my talents." The students congratulated the team on the success of the movie and thanked them for such an informative session.