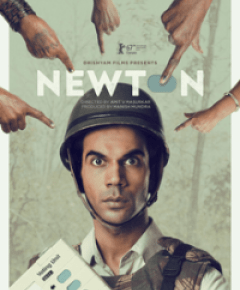 "The concept behind the film, Newton was to focus on the power of a common man…", shared the talented director and screenwriter, Amit Masurkar of the critically acclaimed film at WWI
~ The interactive session witnessed the team of Newton impart their invaluable advice on different aspects of filmmaking to the students of Whistling Woods International ~
"I don't see myself smarter than the audience, hence I don't assume", said Amit Masurkar in an engaging masterclass with the aspiring filmmakers and creative professionals of the Indian cinema at Whistling Woods International.
The film forum moderated by Anjum Rajabali, HOD, Screenwriting, witnessed Amit narrate the film's ideation process in detail. He went on discussing the importance of characterisation, which added a distinct appeal to the film. What followed was an interactive session as the stalwarts – Mayank Tewari – Screenwriter, Swapnil Sonawane – Cinematographer and Shweta Venkat Mathew – Editor shared specific details about filmmaking.
While discussing about editing, Shweta Venkat Mathew, cited the key elements that brought out the substance of the film. She emphasized how the actors along with the shoot locations governed the pace of the film and lent the realistic feel to it. While talking about cinematography, Swapnil mentioned the various camera techniques that were adopted whilst shooting the film. He added how the lenses used for the cinematography of Newton were an amalgamation of the age-old cooks anamorphic and the new methodology master anamorphic, to creating a unique effect.
The concept behind the film, Newton was to focus on the power of a common man on the day of the election. The team discussed how they ensured the content be presented in a simple way to make the film relatable and less complex.
While detailing on scriptwriting, Amit shared about the usual technique that he often adopts. He shared, "I take a blank piece of paper on which I begin by putting down all the attributes, visuals I see related to the theme. Then I move on to sketch the characteristics of each character." He also reasoned why Bastar was chosen as the location for the shoot. Considering multiple political celebrations in the region, Bastar appeared to be the ideal location for the mood and screenplay of this film.
While speaking about his experience, Amit remarked, "It was wonderful interacting with the students of Whistling Woods International. I am amazed by the level of dedication, the keen interest showcased and the minute details brought out by the students of the institute."
The session witnessed its end with a token of appreciation being presented to the guests amongst thunderous applauds from the students.