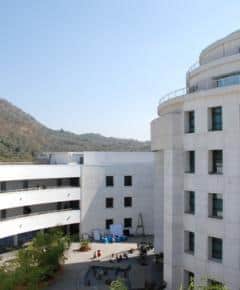 Guest Interaction with Alphonse Roy, Cinematographer
On Filming Aamir, Great Cats of India and more
Alphonse Roy, the internationally renowned and Emmy award-winning wildlife cinematographer was at Whistling Woods this week, for an extended workshop with the Senior Cinematography students. Alphonse, who has been making documentaries and films for about 25 years for National Geographic, Discovery and BBC channels, made an impact with his stunning work in the 2008 film Aamir directed by Raj Kumar Gupta. It was no surprise, therefore, to see students from all departments thronging the auditorium at the screening of Aamir and also at the interaction with its DoP, the following day.
Almost as a double bill, students also had the opportunity of viewing one of Alphonse's acclaimed wild-life films, Great Cats of India (funded by Animal Planet), which followed Alphonse's strategy and working style to shoot the four great cats of India –the tiger, the lion, the leopard and the snow leopard, in their natural habitats; There was a standing ovation to the ace cinematographer as he took centre-stage with Rajen Kothari (Faculty, Cinematography) who moderated the session along with HoD, Cinematography, Krishhnamurthy. Alphonse recalled his travel across India with his photographer father, and his early and abiding passion for documenting wildlife, and said that even as he trained in Cinematography in a film-school, and with opportunities for wild-life cinematography in India being limited, he was determined to go "the non-narrative way" as he put it. And his sheer persistence and dedication to the craft eventually led to his standing as one of the premier wildlife cinematographers of India.
In the enthralling session that followed the screening of Great Cats of India, students and faculty alike, re-lived the awe-inspiring experiences of Alphonse on his incredible exploration, as he shared his technical skills, local knowledge and 'jungle craft' and spoke at length about his close encounters while filming the Great Cats in their natural habitats, across the country?the tigers at Bandhavgarh National Park (M P), the lions at Gir National Park (Gujarat), the leopard in Valparai (Tamilnadu) and the elusive snow leopard in Hemis National Park in Leh. ("Shooting the snow leopard was the toughest. We had to work in minus 45 degrees cold weather, at an altitude above 12,000 feet.")
The Q & A session at this point of the interaction was quite expectedly on technical aspects of filming, posed by Cinematography students: on the cameras- film/digital, lenses, and other production aspects of wildlife cinematography. But the sustained interest level of students irrespective of their specialisations, was vividly evident, as for instance by a question posed by a Freshman studying Animation, on how Alphonse had "managed to manually shift focus while shooting a tiger with her cubs", to which a detailed answer was duly given. In answer to another question posed by a Direction student, on how he made the shift from the jungle to shooting Aamir in Mumbai, Alphonse laconically referred to the jungle out there in the city- .. referring to the seamy under-belly of Mumbai where much of the film was shot. On taking up Aamir, with all its inherent challenges, Alphonse also spoke about how, while reading the script, he realised "the city itself was an important character in the film. I knew I would never get a chance again to film it like a character and immediately said yes." Keeping in mind, the 'extreme' situations of much of the location of the story ("not much light penetrated through..in the narrow by-lanes) the cinematographer was given complete creative freedom,in particular, decisions with respect to shot break drown, choice of where to shoot, etc. "My wild-life cinematography came in handy and I used to shoot in natural light, at times with the camera on my shoulder."
Students were also introduced to Alphonse Roy's assistant, Archana Borhade a graduate in Engineering (Information Technology), whose passion for Cinematography made her take it up as a career. Her own journey from her I T days, to completing a short course in Cinematography, to meeting Alphonse Roy, first as a teacher, and now, as a mentor DoP (and working with him sinceAamir in 2008), had the students riveted. One of the most unexpected lessons of the day was Archana's articulate and candid answer to a question asked of her by a Cinematography student,Richa, on the prevailing situation in the film industry with respect to women cinematographers. "It is still a male-dominated industry, when it comes to technicians; there are very few women cinematographers or women sound recordists. You may not be taken seriously, may be treated patronisingly, and worse, even face prejudice and abuse in your interactions with light-men or production staff. How you handle this situation is crucial. Avoid 'groupism' in a unit; work with sincerity and dedication along with the unit, and you will change their perception of women technicians" was the advice given. The feisty young assistant cinematographer also had words of advice for the future cinematographers from WWI. "Your attitude in a world where there is 'cut-throat competition' will be important in determining where you will go. Small tasks do not make you look small. There is no task that is to be considered as 'menial' because you have trained in a film school."
As Rajen Kothari summed it up, "all good things have to come to an end". A most enthralling and satisfying 'close encounter' that WWI's students had with Alphonse Roy, a great cinematographer, and more importantly, a great human being ..drew to a close. But not before, Alphonse received and graciously accepted amidst cheers, an invitation from a student from Peru, to visit her country for a wildlife film.
Alphonse said that he hopes to see some more creative young minds addressing issues of nature and wild life in India. Having taught at various film schools, he was very impressed with the calibre of WWI's students and looks forward to interacting with them again.