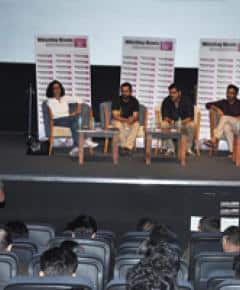 The team of Filmistaan was with us to interact with our students to share some experiences and insights as gained while working on a real project. The team comprised of the Director of the film, Nitin Kakkar, Actors, Sharib Hashmi and Inaamulhaq and Director of Photography, Subhransu Das of Filmistaan, which won the National Award for the Best Feature Film in Hindi. The session was moderated by Ashmaki Acharya, Head of Department, Direction, Whistling Woods International.
The session started with Nitin Kakkar sharing a bit about his life and how he worked towards becoming a director. Experience of working on television for seven years, taking tution, being a part of stage acts in college, interest in choreography, a passion for photography inherited from his father and so on and so forth.
Getting into specifics about the making of Filmistaan, he started from how he narrated stories to the producers, adding to which he mentioned that "the power of narrating a story depends on how connected and involved you are with the story and how well you know the characters to the core.
He also shared his experience of working as an assistant director and shared an important lesson that he learnt on the sets as an assistant director. He said, that an assistant director is a person on the set who along with the ability to solve a problem or address a situation should have the observation skills and an ind-depth understanding of the scenario to be able to foresee a problem. It is imperative that the assistant director believes in the Director's vision.
Moving on to the actors, Sharib Hashmi and Inaamulhaq, shared their experience of being a part of the media industry and playing different roles as assistant directors and writers, but their passion for acting outshone. A very interesting note Inaamulhaq shared was that an actor should always try to build a healthy rapport and have a sense of camaraderie with his co-actors, as that reflects on the screen and adds to the positive spirit of working together and brings out the best in each other.
The Director of photography, Subhransu Das, very appropriately pointed out that it is extremely important for a director to be able to communicate with the technical crew in a way that one could relate to at an emotional-human level. The technical aspect falls in place if the flavour or the essence of the story/shot is clearly conveyed to the technicians. To which Nitin added that technicalities and technology is a tool that supports film-making, but it is the art of story-telling that forms the base.
Overall, it was an amazing session which ended on the Director's note suggesting all the students 'Take a backpack and go travel India', as travelling around and observing different places in its hues immensely helps one to evolve creatively.