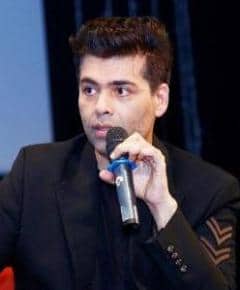 ~ The popular filmmaker candidly shared his experiences, learnings and knowledge during a film forum masterclass at the institute ~
Acclaimed Indian filmmaker Karan Johar was welcomed with a loud cheer as he entered the auditorium of Whistling Woods International (WWI) for a film forum masterclass. The masterclass was moderated by Rahul Puri, Head of Academics – WWI, who posed questions to Karan Johar, with regards to his filmmaking and specifically about his recent film – 'Ae Dil Hai Mushkil.' The director spoke at length about his approach and the processes involved in the making of his films & specifically about 'Ae Dil…'.
He gave multiple suggestions and advice to an auditorium full of aspiring filmmakers to be better at their skills and also help them grow as unique individual professionals in the Film & Media industry. He specifically recommended a special exercise for the students of acting, in order to enhance their acting skills.
He advised budding filmmakers, saying, "It is extremely important to be with the times. Relevance is something you can aspire, chase and acquire, if you keep your mind open to suggestions." While interacting with the students he encouraged them to trust their instincts and make films that they believe in. He further added, "Nothing fails like success. When in failure you contemplate and strive to become better. However, success comes with a lot of baggage. When you meet success, make sure to acknowledge it and move on. Those who become arrogant with success tend to go down with it. The ability to move beyond success will come with recognising what you don't know and not what you know."
He shared anecdotes from his filmmaking journey, from being an assistant director in Dilwale Dulhania Le Jayenge to writing-directing, producing & distributing blockbuster movies. He also shared his immense love for Indian film music and candidly admitted, "I am obsessed with and only listen to Indian film music." He also mentioned that this love was the seed that enabled him to work with music directors to create the many much-loved melodies in all his movies, which bear a stamp of his love for music.
As expected, the students had several questions for him. Karan Johar patiently answered all the questions and shared a lot of his experiences, which will greatly assist the students as filmmakers & even beyond as people. While he has been visiting Whistling Woods for masterclasses quite often, every time he visits, he wishes that there was an institute like this when he was starting out as a filmmaker and rues that he had to learn on the job. He spoke about all the Whistling Woods alumni that he has enjoyed working with, including the writer-director of the highly successful 'Humpty Sharma Ki Dulhaniya' and 'Badrinath ki Dulhaniya', Shashank Khaitan and the editor of 'Ae Dil…', Manik Dawar and a whole lot of other Whistling Woods alumni who are working at Dharma Productions.
Wishing the students best for all their future endeavours, he asked them to make the maximum of their time at WWI and step out to create their mark in the media and entertainment industry.