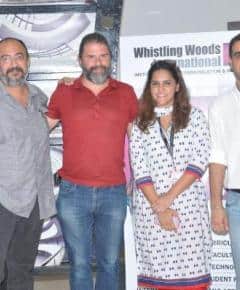 "We make movies to interact, to tell stories and most importantly to connect with the audience", said renowned filmmaker, Sebastian Cordero at Whistling Woods International.
One key aspect that separates Whistling Woods International (WWI) from rest of the institutes is its various initiatives taken to enhance the knowledge and make the students industry oriented. Apart from the faculty of renowned industry experts, WWI also provides the students an opportunity to interact with internationally established professionals. About 550 students of WWI were addressed by the critically acclaimed filmmaker, Sebastian Cordero.
Cordero who is an Ecuadorian film director, writer & an editor generously took a few hours from his busy schedule to visit WWI and share his experiences with the students.
'Cronica', an Ecuadorian thriller film, written and directed by Cordero was screened for the students, post which Anjum Rajabali, an eminent Indian screenwriter and also the HOD – Screenwriting, WWI introduced Cordero on stage. The renowned Ecuadorian film director was extremely enthusiastic & eager to share his experiences about his journey right from conceptualizing to completing the film.
"No matter what your actions are, you are still a human", quoted Cordero when asked how he managed to sensitize a thriller film that revolved around dark demonic side of human nature. In addition, he spoke about some of his work that moved around human nature, morals & ethics. He mentioned it is the characters he meets in real life that inspire him to write stories and make films.
While enlightening the students on story writing and speaking about the uniqueness that reflects from his works, Cordero said that everyone has a story with a local flavor, the art is to write it in a way that is universal and can connect with every human. Cordero also imparted knowledge to the students on ways to work around other aspects of the character if they have restrictions on portraying violence or other intense feelings.
He spoke at length explaining the challenges he faced during the making of his film. The students were extremely pleased to have their doubts cleared and grateful for the knowledge imparted. Cordero expressed his willingness to visit WWI again during his next visit to India.