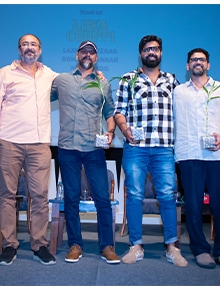 "IT'S IMPORTANT TO UNDERSTAND WHAT AN AUDIENCE WANTS", SHARED MR. LAXMAN UTEKAR, DIRECTOR, LUKA CHUPPI AT THE MASTERCLASS HELD AT WHISTLING WOODS INTERNATIONAL
Whistling Woods International (WWI), Asia's premier Film, Communication and Creative Arts institute, hosted the creative team behind the highly successful romantic comedy 'Luka Chuppi'. Over the course of this exclusive masterclass, the crew shared their knowledge and insights about the Indian film industry with an engrossed audience. In addition to director Mr. Laxman Utekar, the session also saw the attendance of writer Mr. Rohan Shankar and Director of Photography (DOP) Mr. Milind Jog, in a discussion moderated by Mr. Anjum Rajabali, Head of Department – Screenwriting at WWI.
Following an initial round of introductions, the team took turns to describe their individual contributions to the film. Mr. Laxman Utekar began the session by detailing the research that went into the film, stating, "Being a Maharashtrian, I'm not much aware of the North Indian culture. Hence, it was difficult for me to make a movie based on that culture. So, Rohan and I went to Agra and Mathura and spent 45 days in studyingand understanding the culture and its people and prepared the script accordingly." Mr. Rohan Shankar further emphasised on the importance of research, saying, "When we visited the location, the influence of the real world came in. Research is utmost important for the script of a film."
When questioned on his inspiration for the script, Mr. Rohan Shankar cited classic comedies such as Golmaal, Chup Chup Ke, and the works of Basu Chatterjee. Mr. Milind Jog, subsequently, took the opportunity to highlight the importance of a DOP in setting the mood of a film, revealing, "The colour palette was sophisticated, which is just what Laxman wanted. He wanted the world to look pretty." Speaking on the importance of casting for a comedy film, the director shared, "When you write the script, you know how the actors would behave and enact the scene to make it more appealing for the audience."
As the panel came to a close, Mr. Laxman Utekar shared with the aspiring young filmmakers a final piece of advice, "It's important to criticise yourself. It's important to understand what an audience wants."
As the session concluded, Mr. Anjum Rajabali presented the guests with a token of gratitude, while the students expressed their appreciation for the talented crew with a thunderous round of applause.