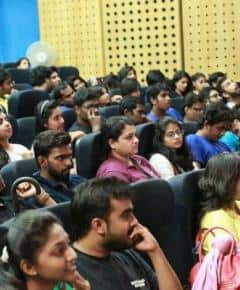 Today, viewers have an increasing appetite for media in all forms including television. There is a soaring demand for great formats and original content. Envisaging the same, this week, Whistling Woods International (WWI) invited Arpit Agarwal to share insights that could be beneficial to groom the students to deliver and shine in the media industry. Almost 500 students of WWI were addressed by Arpit Agarwal, former Business Head at Sahara One and Head of Operations at Fremantle Media India, and Balaji Telefilms.
Agarwal who comes with 19 years of experience in creating, producing and managing both mass and television content in India as well as in Singapore advised the students to be aware of all kinds of media. He stated one needs to have an opinion and in order to have an opinion, one needs to be informed. He also enlightened the students on various aspects of distribution, syndication, programming, content creation, managing resources and more. He emphasised on the importance of discipline and said, "You may have a great idea but if you don't know how to execute it as planned and within the allotted budgets, it makes no sense."
'Consuming a lot of media is definitely going to be fruitful' was his word of advice to the students before ending the session.