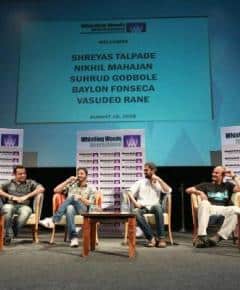 A recent survey stated that audience today is more appeased by the story rather than just the spectacle of a film. We have also witnessed excellent films emerging out of Maharashtra, one such regional movie being 'Baji'. On Tuesday, this week, almost 550 students of Whistling Woods International (WWI) got the opportunity to interact with the superheroes of Marathi action superhero film,'Baji'. The film was screened in the evening which received an overwhelming response by the students, post which the cast and crew had their own bit of experiences and moments to share with the students. The masterclass was moderated by Arjun Mogre, an alumni of WWI, who is also known for his short film 'Pradosh'.
"Everyone has a superhero within themselves, you just need to put on the mask for people to take you seriously", advised superhero Shreyas Talpade. He also spoke about the hardships, perseverance and determination during his days as a struggling actor and encouraged the students to work hard and never give up by stating, "Jo cheez upar jati hai, who neeche ati hai; Aur jo cheez neechi ati hai, woh jaroor upar jati hai." Actor-turned-producer, Shreyas also expressed his views on the importance of social media and publicity in today's world.
"The comic books I read as a child inspired me to do an action adventure superhero film", said Nikhil Mahajan, the director of the film. He also enlightened the students on various creative ideas that one can choose when enforced to work in constricted budgets for a film.
Suhrud Godbole, the producer of 'Baji' and also an alumni of WWI expressed his gratitude for the teachings and knowledge he acquired as a student. Based on his editing experiences and speaking about the editor's contribution to the success of a film, he said that an editor needs to get deep into the content more than any other technician and know every single frame and hence quoted, "If you can be a good editor, you can be an excellent director."
Bollywood's extremely renowned production mix & sound designer, Baylon Fonseca quoted, "As a technician, one shouldn't differentiate between big and small films. It's the efforts and hard work that one should put in to get the 'Oh wow!' moments." The Director of photography, VasudeoRane shared insights on how he worked to change the color palettes as per the mood, as the film progressed. The students seemed contented and were extremely grateful to the entire team of 'Baji' for sharing such valuable insights.