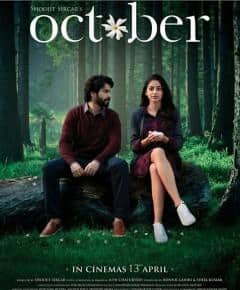 'Stay true to your thoughts and stay determined'- advised the applauded writer, Juhi Chaturvedi in an interactive session hosted by WWI
Applauded for their synergetic partnership, director – Shoojit Sircar, producer – Ronnie Lahiri and writer – Juhi Chaturvedi; have contributed several exceptional movies to the Indian film industry. With creations like Vicky Donor, Piku, Pink and October, the trio have proved their excellence in portraying strong concepts with an exceptional storyline. The creative trio shared insights discussing the filmmaking process and their recent movie, 'October' with the young aspirants of Asia premier Film, Communication, and Creative Arts institute, Whistling Woods International (WWI).
The session commenced as Shoojit Sircar shared the thought process behind the creation of his well-recognised movies – Vicky Donor and Piku. During this conversation, Anjum Rajabali, HOD – Screenwriting, WWI, who moderated the session, helped the students attain a glimpse of the confidence and determination Shoojit possessed while projecting unconventional stories. Later, Juhi discussed how concepts related to mainly health and relationships gave her a drive to ideate and write a script. She also mentioned that these concepts were naturally understood by both Shoojit and Ronnie, owing to the circumstances and personal experiences they had encountered in their respective lives.
While Shoojit and Juhi shared knowledge about the creative domain, Ronnie discussed his role and responsibility as a producer. He also mentioned how the production house had a 'development fund' which allowed writers to share various ideas and scripts that would then be shortlisted by Ronnie himself. The trio further also discussed in brief about budget management, choice of star-cast and ways to battle pressures. While doing so, Shoojit said, "Cinema is an expensive medium. As a director, it is extremely important to understand and take responsibility to recover the money." In addition to this, Juhi revealed the methods of dealing with writer's block and explained how thorough research had helped her add emotional and cultural authenticity to the script.
The session then opened to a Q&A round where the esteemed guests addressed to the queries proposed by the students. As a departing word of advice to the talented aspirants, Juhi Chaturvedi said, "Just stay true to your thoughts and stay determined." To this Shoojit Sircar added, "Cinema should be practised with a lot of calmness, passion and leisure. So be patient and believe in yourself." The session marked its end with a thunderous applause as the talented team of October were presented with a token of appreciation by Anjum Rajabali.