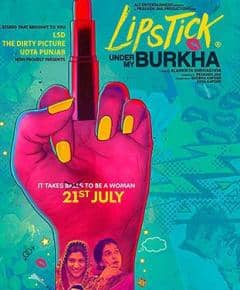 "WWI alumni are thorough professionals & extremely disciplined", said director Alankrita Shrivastava on her experience while working with them on 'Lipstick under my burkha'.
Whistling Woods International (WWI) hosted director Alankrita Shrivastava, and the cast and crew of the acclaimed film, Lipstick Under My Burkha for an engaging film forum session. The session was moderated by well-known screenwriter & HOD – Screenwriting, WWI, Anjum Rajabali. The visiting team shared their experiences while making the film. The director along with the members of the cast, Aahana Kumra and Plabita Borthakur, shed light on the filmmaking process and how the audience perceive films that convey a strong social message.
Also, gracing the stage at the masterclass were the WWI alumni along with other crew members, Rohit Chaturvedi, Costume Designer; Akshay Singh, Cinematographer. The WWI alum members comprised of Aahana Kumra, Actor; Rahul Badwelkar, Sound Designer; Abhinav Agnihotri, Sound Editor; Dhruv Parekh, Assistant – Sound Editor, Akshay Patil, Sound Recordist and Tushar Seth, First Assistant Director, who also interacted with the students, while reminiscing their early days at WWI. It was a proud moment for WWI as an institute to see it's alumni grace the stage as industry guests, leaving the present batch of aspiring filmmakers inspired.
While interacting with the budding filmmakers at WWI, Alankrita Shrivastava said, "During the course of writing and directing a film, filmmakers often become the audience and the critics. As filmmakers we are free to engage in material that speaks to us, which further helps us make a good film."
She also shared instances from the film and how she fought against all odds, while patiently waiting for the film to hit the silver screen. She admitted, "I can never write for the audience. If something connects to me, I will go ahead and write it for myself. I cannot think from the audiences' point of view." She also discussed about how she chose the title of her film, which didn't involve any culture or sub-culture, and confessed that the title of the film was metaphoric for her.
The session culminated on a high note as Meghna Ghai Puri (President, WWI) thanked the guests and felicitated them with a token of appreciation.