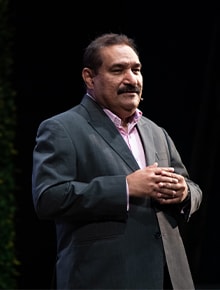 "The future belongs to all of you", shared Sabbas Joseph, Co-Founder, Wizcraft at an enlightening SMC masterclass at Whistling Woods International
Whistling Woods International (WWI) School Of Media and Communication (SMC) hosted the Co-Founder of Wizcraft, Sabbas Joseph for an interactive masterclass session. The session was held for the students to gain perspective and insights on the work put forth in the formation and establishment of Wizcraft, which has over the years become synonymous to conceptualising and executing events in India and abroad.
The session commenced with Sabbas Joseph highlighting his journey into the events sector post a fruitful career in journalism. While interacting with the students, he narrated the story of his ups and downs that led him to co-create the mega-brand, Wizcraft. He further recommended the students to, "Believe in the power of one's dreams, as dreams do come true."
The session progressed with the guest sharing his knowledge on the growth and shift of the business sector and went on to add, "What got us here was hardships and education but what will get us to the next level will be education and innovation. The technology is going to pave your way to the future."
When asked about his mantra in life he responded, "The mantra that I follow is to listen, learn and believe, as, with these three words, one can capture life. Listen to everything, learn from it and believe in your dreams." He also shared 'behind the scene' stories of the execution of some of the most iconic events such as the Global Citizen Festival, IIFA, etc., which had the audience spellbound with awe and yearning to know more about the nuances of the sector.
The session concluded with the students presenting Sabbas Joseph a token of their love and gratitude for sharing with them the valuable knowledge they would require to make the right choices in their careers.