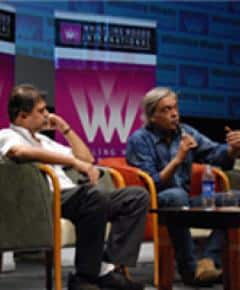 Sudhir Mishra – Director of (Hazaaron Khwahishen Aisi) visits WWI for a Guest Interaction
'Find the moment of grace & the story will follow' – Sudhir Mishra to the future filmmakers at Whistling Woods International.
Whistling Woods International students were privileged to have a master class with renowned Director & Scriptwriter, Sudhir Mishra, who is well-known for directing critically acclaimed films like Hazaaron Khwaishein Aisi, Dharaviand Chameli. The students were taken through his journey from when he started his career with Kundan Shah's 'Jaane bhi do yaaron' till date. He not only spoke about his experiencesbut also about his beliefs and motivations.
Accompanying Mr. Mishra in his conversations with the students was Mr. Ravi Gupta, Executive Director and FIlmmaker Somnath Sen, AVP-Academic Affiliations. During his tenure at the NFDC, Mr. Gupta had produced SudhirMishra's first film and two others consequently. When asked to talk about his journey into filmmaking Sudhir Mishra said that his journey has been more of a fairy tale and from his experiences he aptly said "Insteadof being at the right place at the right time, in filmmaking you have to be at the right place all the time!"
Mr. Mishra advised the prospective filmmakers that, "Make films that you want to make, films that you connect with. Do not follow any pretentions". Mr. Gupta emphasized on Sudhir Mishra's startup infilmmaking as a writer and asked him to share the importance of writing to be a good director, to which the director said "I believe that film is writing!" He further emphasized that after Writing it was editingwhich was an extremely important aspect of Filmmaking. He reminded the students how most of the big filmmakers today like Prakash Jha , David Dhawan, Raju Hirani – have all been editors before and he is not surprised to see thesuccessful transition from editing to directing. "Everything begins there; Editing teaches you the economy of films, the job of a good editor often is to make you understand the material you have shot"
When asked about his celebrated film Hazaaron Khwaishein Aisi and to what extent was it a statement against fascism, he happily answered, "Hazaaron is about the wastages of beauty that is left when the youth fades!"
Somnath Sen put forth his query, that post Jaane Bhi Do yaaro, all the associates/people connected to the film moved on, Sudhir Mishra has stuck to his ideology and is still making 'his' kind of films, to which he answered, "I always want to do films, which I want to make. Filmmaking is not only about making money. I am here to have fun. I have done till now what I can do and it has been a great privilege to be a part of thisindustry."
In the Q&A session with students, he shared part of his learnings with thestudents. He explained the importance of not going too much into detail of every aspect of the film, "If you get caught up with looking at everything in too much detail, you will drown".
Sharing his experience and highlighting his views about WWI, Sudhir Mishra signed off by saying, "The students are wonderful! They have been very well trained and they come from a good background. Their understanding of film is great, and I would like to congratulate the school and Subhashji for this."