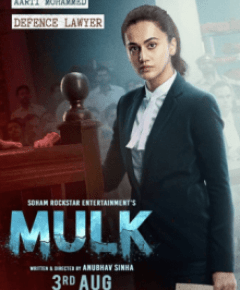 "Always define success for yourself." said the impeccable producer, director and writer, Anubhav Sinha at Whistling Woods International
Applauded for his work in films like 'Dus', 'Ra.One' and 'Tum Bin', among others, the Indian film producer, director & writer, Anubhav Sinha has always strived to project distinctive concepts through his movies. With his recent creation, 'Mulk', he has showcased a real-life story that narrates the struggles of a Muslim family in India, who fight to reclaim their honour after a member of their family takes to terrorism. For the masterclass conducted at Whistling Woods International, Anubhav shared his experience and knowledge behind the process of making 'Mulk' with its protagonist & actor, Taapsee Pannu.
During the session moderated by Anjum Rajabali, HOD, Screenwriting – WWI, Anubhav shared his mantra for being consistent in the film business and said,"Always define success for yourself". He further provided insights about the brave idea he wanted to depict and thereafter the challenges he faced. He narrated how experts from the film fraternity had apprehensions about his idea, but it was his strong conviction the led him to create 'Mulk' just the way he had envisioned.
Further, in the conversation, Taapsee Pannu shared an artist's point of view and inner thoughts about her character in the film. She described how fortunate she felt to play a protagonist that had a voice of a secular Indian. She also explained her initial intimidation, with the responsibility of voicing a strong character amidst other prolific actors in the film like Rishi Kapoor, Prateik Babbar, Rajat Kapoor, and Ashutosh Rana among others. Talking about the unexpected success and critical appreciation 'Mulk' received, Anubhav said, "I was not surprised by the positive response, but by the enormity of it."
In the latter part of the session, Anubhav highlighted the importance of team-work and shared how each crew member had an equal contribution to the movie. He said, "The biggest task is to find a team who believes in the story in a manner the director envisions it." As an advice to the budding directors, Anubhav added, "As a director, you need to realise, it is not only about you; it is about the whole team."Further, Taapsee enlightened the students about the methods and process she followed for depicting her exemplary character. She said, "I had to connect a bit of my own personality with the idea. But majorly I drew my confidence from the script and the story."
The session then marked its end with a Q & A round where the esteemed guests addressed to the questions asked by the students. The session ended with Meghna Ghai Puri, President – WWI, felicitating the dignitaries with a token of appreciation.