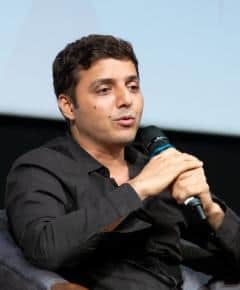 "Our commitment to nature cannot be a one-day-event for social media."- shared the awardee of 'Indian of the year 2017' in a heart-to-heart session with the students of WWI
Bestowed with the award – 'Champion of the Earth' by The United Nations Environment Programme (UNEP), Afroz Shah is globally-applauded for conducting the biggest beach clean-up. In an educative session with the students of Whistling Woods International, Afroz narrated his personal journey, and experiences about his initiative to address the marine crisis.
Discussing the motivation behind taking up the environmental crusade, Afroz a lawyer by profession, briefly mentioned about his preliminary impetus. He further shared how the beauty and serenity of the blue sea has always enchanted him. However, after shifting to his sea-facing apartment in 2015, Afroz faced the harsh reality of an affected marine life due to the abundant trash accumulated at the shore. Revealing the 'call to action' moment, he said, "Instead of complaining about the situation, I acted upon it."
Talking about his exemplary approach to this global crisis, the ocean-lover educated the students about the significance of understanding the country's history and the path the role-models of earlier eras followed. He enlightened, "I chose to adopt what happened 70 years back. The journey should begin with what our forefathers did." Later, Afroz also exchanged his global observations and encounters that further boosted his conviction to protect the nature.
On a similar note, the activist expressed the relevance of discussing 'marine debris' with the students of a film, communication and creative arts school. Afroz emphasised the need to be a holistic individual irrespective of one's profession. He vocalized, how the youth of the country has tremendous power in making a positive change; hence pointing out the need to understand, that, nature and country demand time. Further, in the conversation, Afroz also shared the setback he underwent during this journey and how he overcame the hurdles by accepting and working on his failures.
On this inspiring note, Rahul Puri, Head of Academics – WWI, announced the initiative WWI would undertake in collaboration with Afroz Shah for the beach clean-up. Rahul Puri also declared the establishment of a plastic-bank to monitor conscious usage of plastic and eventually make WWI a plastic-free campus.
The session then opened to a Q&A round where the students in the audience proposed their queries. During the Q&A session, Afroz Shah stated, "Our commitment to nature cannot be a one-day-event for social media."
Comparing his motivation for cleaning litter to a date, as a departing thought Afroz said, "As long as the beach and oceans don't get clean, I will continue with the date."
The session marked its end with applause and cheer as the esteemed guest was presented with a token of appreciation by Rahul Puri.