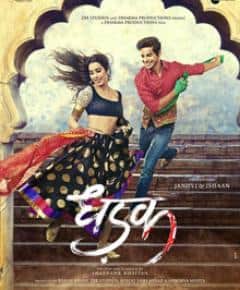 "Your journey in life should be enriching. Don't follow others… Carve your own path", advised the prolific director Shashank Khaitan in a candid yet insightful session at WWI
Dhadak, a movie that carved an emotional niche in the hearts of the audience showcased the zeal and creativity of director-writer, Shashank Khaitan. The highly appreciated movie struck a chord for its unique storyline and the strong messaging that it imparted. Whistling Woods International (WWI) invited Shashank with debut protagonists Ishaan Khattar and Jhanvi Kapoor, along with Sohel Sanwari (Sound Recordist) and Varun Machhar (Assistant Director) to interact with the students and share their noteworthy experience.
Shashank, an alumnus of WWI, cited the reasons to create Dhadak, an adaptation of the iconic Marathi movie 'Sairat'. He mentioned in brief about his state of mind after watching Sairat and the emotions it evoked within him. He said, "I felt a connection with the movie. I felt the need to tell the story with my perspective and I was certain about it."
Further, in the conversation, the talented actors, Ishaan and Jhanvi explained the methodologies they undertook in order to stand true to their characters in the movie. Talking about language and dialect adaptations Jhanvi said, "We kept reading the script over and over again, which helped us expand our vocabulary. Also, Shashank is familiar with the dialect, so we would follow his guidance. More than the language, it is the nature and demeanour of the people that we tried to extract." To this, Ishaan added that their visits to Udaipur, diligently practicing, observing and interacting with the locals helped them in bringing finesse to their overall characters.
In the latter part of the session, Sohel Sanwari and Varun Machhar, also the alumni of WWI, shared technical knowledge and details that they incorporated to execute the movie in the way it was envisioned by Shashank. Sohel discussed how the local flavour of Rajasthan was incorporated by capturing and translating the on-goings of the surroundings into sound. In addition to this Varun, Shashank and the actors discussed at length about the emotional and technical aspects of the highly applauded climax scene of the movie. Varun also shared how delighted he was to work with Shashank and quoted a statement that this talented director once told him, which was, "I treat my AD's like potential directors and not as my subordinates."
The auditorium was brimming with energy, as the students got an opportunity to clarify their doubts about the various aspects of filmmaking. As a departing advice to the students, Shashank Khaitan said, "Don't follow anybody else's journey. We all come with different skill sets and experiences. So, stay honest with yourself and be you." The session marked its end and the esteemed guests were felicitated with a token of appreciation and a thunderous applause.