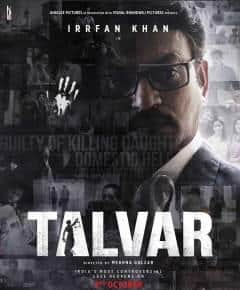 Film forum on the movie 'Talvar' conducted on February 2nd 2016. Screening of the movie followed by interaction with the director – Meghna Gulzar and co-producer – Priti Shahani held in auditorium.
Vishal Bhardwaj & Meghna Gulzar gifted a copy of TALVAR'S final script to Whistling Woods International's library
Mumbai, February 02, 2016: The movie 'Talvar' had left its audience to question their percepts about crime and judgements passed! Though every audience of this cleanly crafted film would have loved to interact with the director and the producer on the nuances of making of this film, the students of Whistling Woods International (WWI) turned out to be the privileged ones of the lot. This week, the movie which is based on real life incident was screened for around 350 WWI students, post which the director, Meghna Gulzar & Priti Shahani, the co-producer of the film were invited for the film forum.
Meghna expressed that initially while she followed the real life incident case, she never intended to make a film on it. The trigger was the casual chat with Vishal Bhardwaj, the writer of the film who came up with this idea. She later realized that it is a compelling story and it really needed to be told. She shared her experiences with the students, right from the inception of the film. 'How can a single case and investigation have so many conclusions?' she wondered, which led her to do a research for almost 2 years before starting the film.
"I feel re-born as a filmmaker with this film because it made me relearn what I thought I already knew about filmmaking", said Meghna Gulzar on making the first-of-its-kind, a film that portrayed a real life incident without making any improvisations to the content.
Priti shared her insights from the business perspective, the possibilities of legal actions that a producer might have to face and the precautions they have to take. "A producer should ensure that a cinema should be produced within a buyable budget, as in the case of Talvar, and it will find its right audience", she said.
She further stated, "We were making an honest film and I trusted the team." While they spoke about the team, the students were inspired to know about the efforts the actors put in to study and portray their roles, relating themselves to the real life characters, their body language and mannerisms.
Appreciating the film forum platform, Priti Shahani said, "It has been the finest interaction ever. It's heartening when the subject finds its resilience with the students. The questions were different and unique from any questions ever asked. And I believe it has to do with the institution they are coming from and their understanding of the process of filmmaking, including the responsibilities of taking a film to the audience."
The students were quite inspired and satisfied with the clarity on the making of such an unflinching film. They were motivated to be brave enough to showcase many such real life stories in the near future. They thanked Meghna & Priti for spending their valuable time