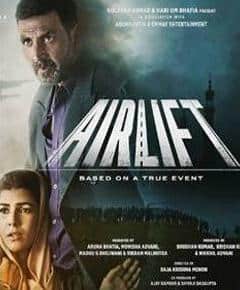 "IT IS IMPORTANT THAT EACH CREW MEMBER WORKS IN-SYNC TOWARDS THE COMMON GOAL, AS EVERYONE IS A FILMMAKER AT THE END OF THE DAY", SAID RAJA MENON, DIRECTOR OF AIRLIFT IN THE MASTERCLASS AT WHISTLING WOODS INTERNATIONAL
As their critically acclaimed film crosses the 100 Cr mark, team of Airlift shares their war stories with 400 WWI Students
Mumbai, February 11, 2016:
This week, Whistling Woods International (WWI) conducted the film forum for recently released, highly-acclaimed film, Airlift. The plot is based on the largest human evacuation by air in the world history by India during the 1990's Iraq-Kuwait war. Post the screening, WWI hosted the team of Airlift including
Raja Menon
, Director;
Priya Seth
, Cinematographer;
Hemanti Sarkar
, Editor;
Mustafa Stationwala
, Production Designer;
Udai Singh Pawar
, Associate Director and
Sajid Sanwari
, Chief Assistant Cinematographer & 2nd Unit Director of Photography, who is also a WWI alumnus. The team shared their experiences of working on this project with over 400 students of WWI.
Explaining how Airlift turned into a beautiful piece of cinema, Raja Menonshared his views on how 'following a process', importance of pre-production charting and planning, and having regular and intensive discussions with the crew members, help in being aligned to the common vision and the only objective of taking a story from script to screen with all honesty.
"It is imperative for each crew member to understand the roles of all the departments involved to be able to work in-sync and ensure a smooth flow of operation, while working in a limited timeframe and budget. After all everyone is a filmmaker at the end of the day", he said. This session gave the students a clarity on the roles of each department involved in portraying a film with an honest intention and working towards a common objective of telling the story in its truest form.
The team also shared interesting snippets on various aspects involved in the filmmaking process, their journey – from recce to the final story being unfolded on the big screen. A very interesting aspect mentioned by Raja Menon, was a word of inspiration for the students, which will help them in understanding the level of dedication, involvement and hard work required to make a film. He said, "From script to screen, the makers need to live with the idea, to be able to visualize the story holistically."
The students got best of all present on the stage as the team struck a chord with them. The student interaction session with the Airlift teamwashighly energetic. Their exceptional knowledge about filmmaking made the masterclass highly interactive, fun to listen to and educational as well.
By the close of the session, the students had a lot to take back with them in terms of the technical knowledge of filmmaking but it was the inspiring message that motivated all the students – the idea of filmmaking is to find the truth within the story you wish to narrate to your audience.