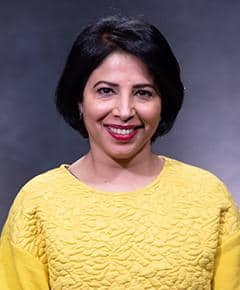 "SUCCESS IS NOT AN ACCIDENT, BUT A RESULT OF HARD WORK," SAID BINDU SHARMA, FOUNDER, VYA NATURALS AT WHISTLING WOODS INTERNATIONAL MASTERCLASS
"Success is not an accident, but a direct result of hard work. Consistency is the key," said Bindu Sharma, Co-Founder, and CEO of Vya Naturals, at a masterclass conducted at Whistling Woods International (WWI). Bindu accompanied by fellow co-founder and Chief Marketing Officer Hans Vivek, shared rare insights about young entrepreneurship and the challenges it poses in a session moderated by Nisha Chanda, HOD, School of Creative Arts, Fashion Design Department.
Following a round of introductions, Bindu Sharma began the session describing their journey and the meaning behind the brand name, Vya – an acronym of Vimal (pure), Yajas (reverence), Ayush (healthy life). The colleagues then opened the floor to the audience, with the eager listeners posing a host of questions. When queried on their unique selling point, Bindu Sharma said, "From the beginning, we've followed a policy of blending traditional ayurvedic knowledge with modern scientific innovation." A subsequent question brought a global perspective to the discussion and the difficulties of promoting a product in a world of influencers such as Kylie Jenner. Bindu Sharma's response was direct, "Innovation is about finding a better way of improving the efficacy of the products. That should always remain your key focus."
As the masterclass progressed, Bindu Sharma highlighted the importance of blogs on her journey as an entrepreneur and the invaluable experience of her earlier corporate role. On a more personal note, she shared her own experiences with skincare, stating, "You need to be consistent in your routine to obtain the skin type you want."
Vivek subsequently shared his own working experience, stressing the importance of retaining clients as a start-up. When asked about the role played by marketing, he responded, "The key is to make the public unlearn certain facts and then educate everyone again. Never rely on buzzwords." With the session coming to an end, the duo had a final word of advice for the attendees, "If you choose to become an entrepreneur, do it for yourself."
As the session was nearing its end, Bindu Sharma and Hans Vivek surprised the audience by sharing complementary beauty products. The speakers were then bestowed with tokens of appreciation by Meghna Ghai Puri, President, WWI.