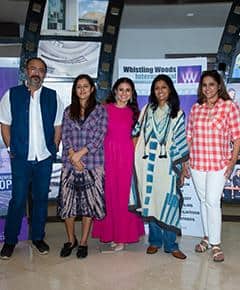 'Manto Revisited' – Whistling Woods International Students Interact with the Team of the Highly Acclaimed Film in a Masterclass
Whistling Woods International (WWI) has always been known to do things differently. Of the many interesting facets curated to offer the students up-to-date learnings, masterclasses with industry stalwarts play a major role to hone their skill set.
Today's masterclass with team 'Manto' was indeed exceptional as the students of Asia's premier film, communication and creative arts institute got an exposure to the finer and detailed aspects of the critically-acclaimed movie.
The deep, invigorating and soul-stirring session witnessed the ingenuity through which the film was presented to the audience. The guests of the session – Nandita Das (Writer, Director & Producer), Rasika Dugal (Actor), and Sneha Khanwalkar (Music Director) represented team 'Manto'. The session moderated by Anjum Rajabali, HOD Screenwriting department, WWI, led the students through the thought process that went into making this film and highlighted some rare findings of filmmaking.
Nandita while interacting with the inquisitive students shared, "She always wanted to work with the people, and for the people". Speaking about her role as an artist who has more than 40 films to her credit, she said, "Art is a very powerful thing. It is something to keep chasing on, to be able to help you improve as an artist. Even after working for so many years, I still learn and evolve with every film." She also emphasised on the importance of research that plays a crucial role in making a film successful.
Rasika Dugal, who is formally trained in acting, discussed the role a film and media school played for her and cited, "Yes, it did help broaden my perspective." She went on to add, "Everything I know about acting is because of the training I received." Rasika in conversation with Anjum Rajabali helped identify some key aspects that helps one in evolving as a better actor. She further advised, "You just need to connect well with the character you portray that helps you enact the role better. Also, equip yourself with enough information about the character, to be able to do justice to the role." She also confessed, she is more of an impromptu actor as that helps her get the essence of the character right.
Sneha Khanwalkar surprised the audience with her music sensibilities and what went in to impart the melodious soundtracks that resonated perfectly with the era shown in the movie.
As the session came to an end, Meghna Ghai Puri, President, WWI presented the guests with tokens of appreciation amidst thunderous applause echoing through the auditorium.