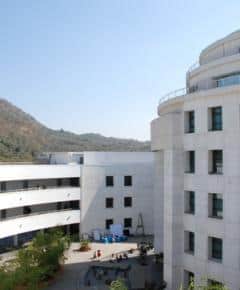 "Artists are like policemen; you should invite neither their friendship nor enmity" said Saroj Khan, a legendary dance choreographer during a most energetic interactive session at Whistling Woods International (WWI), where students interacted with Saroj Khan and Nidhi Tuli – a Documentary Filmmaker and Writer. Nidhi has also directed a 57 min documentary on Saroj Khan titled 'The Saroj Khan Story' which was screened for students the previous day.
Nidhi Tuli also shared her experiences of the struggles she underwent for three years to make this documentary on Saroj Khan and how she dealt with them. Nidhi Tuli fielded questions from the students about her documentary. Discussing the making of this documentary, Nidhi said, "Don't keep a scene that doesn't move the story forward. Some people took over 6 months to revert to my request for an interview, and their inputs changed the documentary completely. Even if it takes time, you have to be open to including the stories of people who matter and who add value to the film."
Saroj Khan shared an ocean of advice with the young students, from her dancing career spanning almost five decades. A very cheerful, light-hearted and candid human being, Saroj Khan had the audience in splits of laughter and thunderous applauses every few minutes. In reply to a question about whether she also composes her song picturizations, Saroj Khan stated, "I compose the entire song shot-by-shot; including lensing and framing. I also sit for the edit."
The entire session was charged with energy and rapture and her apt advice for the students saying, "Don't take this industry for granted, trust yourself the most."
WWI students were thrilled to have interacted with this legendary dance choreographer and floored with the priceless industry insights, experiences, and advice on work ethics given by her and Nidhi.