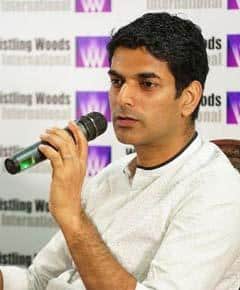 "There is nothing more precious than education, now that you are here, give it your best shot!" said Manav Dhanda, Group CEO of Sri Adhikari Brothers in the masterclass at Whistling Woods International
Whistling Woods International (WWI) witnessed industry expert, Manav Dhanda, Group CEO, Sri Adhikari Brothers Group enlightening the students on how media in India has evolved in terms of format and content. Mr. Manav along with Mr. Rahul Puri, Head of Academics, WWI discussed the importance of media platform and how it is expanding globally.
He shared his insights on India being one of the few countries to have Satellite TV even before the advent of Radio. His exceptional knowledge and experience about the industry made the masterclass highly interactive, fun to listen to and educational as well.
Adding to the session was the Q&A with the students, where Mr. Manav shared his personal experiences & valuable insights. The students were extremely delighted and thankful to him for sharing his thoughts and his journey in this industry.
"With media booming across the world, India is being recognized as a significant player in the global media industry. Knowing your consumers is one of the most vital aspect to be able to deliver relevant content", he said.
Encouraging the students to let loose the creativity in them, he added, "Analytics is the key to survive and make a mark as a media house in this competitive industry. Try to identify & analyse your core strength to be able to deliver professionally & in the best way possible."
The masterclass came to an end with the showcase of an AV highlighting various brands' commercials. It was followed by an interesting exchange of thoughts between Mr. Manav and the students, discussing various ad campaigns and marketing strategies of several brands.
By the close of the session, the students had a lot to take back with them in terms of the knowledge of media industry. It was the inspiring message that motivated all the students – Know the numbers and spend time on researching the facts to be able to become a good decision-maker in media business.
Rahul Puri, Head of Academics, WWI thanked Manav Dhanda for gracing the event and spending his valuable time with the students. The event ended with him felicitating Manav Dhanda with a token of appreciation amidst thunderous applause.